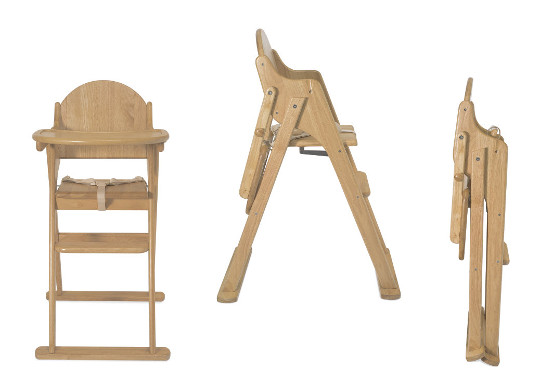 We've had a few high chairs in the four years we've had as parents. Thing is, sometimes you buy something, because you believe it looks good, but in practice it doesn't work for you. Our first high chair was a huge padded monstrosity. It took up so much floor space and became manky with difficult to reach and clean padding pretty quickly. Our next high chair was just a booster seat. It was good in itself, but our chairs weren't so secure with it. I finally bought a Mothercare Valencia Wooden Highchair * (£69.99) second hand off a neighbour who was moving, and it's been a winner for us.
It has a small enough foot print that we can move it out of the way when it's not in use. It folds up pretty small too, but we do use it daily so we don't bother with that.
Both my 3 year old, and my 1 year old use it happily. The wooden tray bit can lift up all the way over the top and hang off the back if you wanted to use it without the tray for any reason. There's a foot rest which my toddler can use, but the baby doesn't quite reach or require it.
There is a harness, but we don't use it. Neither of my girls need it, and we don't leave them in the chair for anything other than eating, and then we don't leave the room, so we've never needed it. They are there though, if you want them.
This chair isn't padded, but neither child has ever complained about being uncomfortable.
My favourite thing about this highchair is how sturdy it is. Both children like using it as a climb frame in play, and my eldest will often hang, wobble, and generally monkey about during eating time, but it has never toppled, wobbled scarily or in any way seemed unsteady or unstable. That's a huge bonus to me.
I would say it's probably not a baby high chair as it's nice and roomy for my kids, and there's no internal support. I was quite surprised to find there's no age notice on the website, but I would say a child needs to be able to sit up alone to be comfortable in this high chair.
It's easy to clean though, and easy to use. We love it, and I'd be tempted to buy a second, if we had any space left in the house, so both girls can use them at the same time!