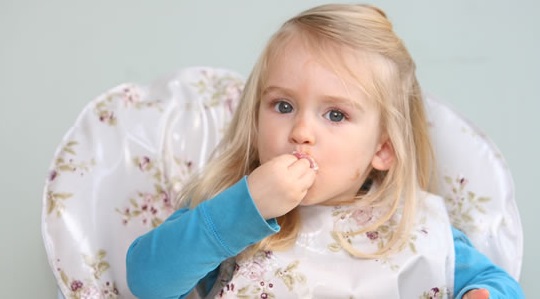 Messy Me is one of those lovely little boutique baby shops that's sprung up online in recent years. I love these stores. They often have products that are useful and stylish.
Specialising in oil-cloth high chair covers and other oil-cloth products, the Messy Me range also includes bibs, tunics, mats, a clutch bag, and the actual oil-cloth itself sold by the metre.
We received a tunic to review. Click on the link below to find out what it is like.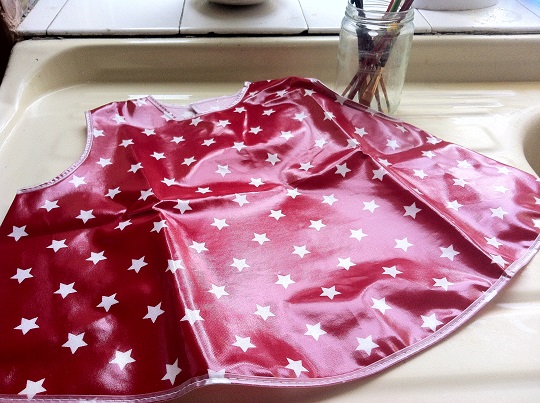 For extra protection during really messy meals try a tunic instead of a bib. Specifically, the Messy Me Messy Tunic (£11.99). The one we received is the red tunic with white stars, pictured above. At the top of the review is the same tunic in vintage flowers. Isn't it lovely? You can also get the stars tunic in rose, grey and true blue.
The tunic has an open back and arms, so little ones don't feel restricted. And it has a velcro fastening at the neck. The fabric is wipe clean, and can be washed at 30C. The tunics fit ages 1 to 3 years.
My first reaction was surprise at how soft the oil cloth actually is. From the photos and just looking at it I expected something that felt more like vinyl. But it isn't stiff at all. The soft cotton-like reverse side is great for kids who don't like that shiny type of texture.
Our wee tester, aged 15 months, was quite happy to put the tunic on. But then pretty much immediately tried to take it off. She managed to pull apart the velcro fastener, which is a bit of a downside. With a bit of persuasion she eventually kept it on, but if you have a child that just pulls off bibs and things (which is what my son did) you may want to think about this.
As a present though, this would be fabulous. My tester's mother said she would be thrilled to get something like this. So worth keeping in mind for a birthday or Christmas gift.
The quality of this garment is impressive. It is beautifully sewn, and fully hemmed around all the edges, bottom, armholes, neck etc. I expect it will get stained, but all the stains will be on the inside, and it looks impressively fresh and new after just a wipe down.
We used the tunic for three meals, breakfast, lunch and dinner. Each time it was fine after a wipe down, even with weetabix. Some of the spaghetti sauce at dinner did get inside the neck area though, so it did need a spin in the washing machine. But being able to re-use like that was useful. The mum of our little tester has said she'll be taking this on holiday with her, so we'll let you how she gets on!
Pros: looks good, excellent quality, wipe clean, a tunic so goes right over clothes
Cons: a little pricey compared to bibs
Overall verdict: 9 / 10