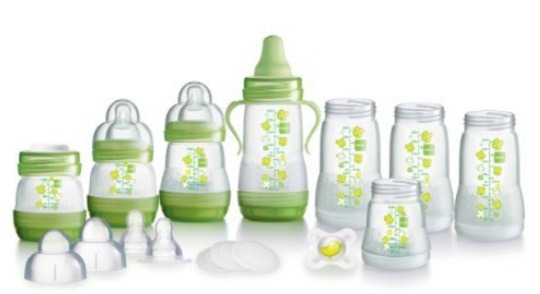 When someone tells you that the anti-colic set you just bought for your baby is one that actually self sterilises you can't help but go, "Oooh." I certainly did wonder how on Earth a bottle could be self-sterilising, but I was more excited by the fact that it grows with my baby - this seems more cost efficient and environmentally friendly, not to mention better bang for my buck.
The MAM Anti-Colic starter set includes extra soft teats so that switching between the breast and the teat is not as much of a change, two Anti-Colic bottles at 130ml, two Anti-Colic bottles at 160ml, four Anti-Colic body bottles at 260ml, four sealing discs, one MAM soft spout, one MAM handle, and one MAM starter soother. It's an impressive kit.
The kit is on sale on Amazon for £18.89 at the time of writing and comes with their free super saver delivery. This is a superb price for a kit that really does cover all the bases for baby feeding in the first few months. And I love the fact that it is self-sterilising too. Then again, I do love clever gadgets and ideas.
So, how does this self-sterilising thing work exactly? Well you have to assemble them in a certain way, pour a set amount of water into the base, slot the various pieces all together and then pop them in the microwave. Poof, sorted. Let me tell you that this is a huge time saver that has made all the difference when a bottle is desperately needed but someone forgot to run the sterilising sequence…
I cannot recommend the MAM Anti-Colic starter set enough, I really can't. It was a huge relief to get everything I needed in one simple swoop and I love the designs and all the bits included. It really does feel like great value for money with some fabulous extras added in for flavour.