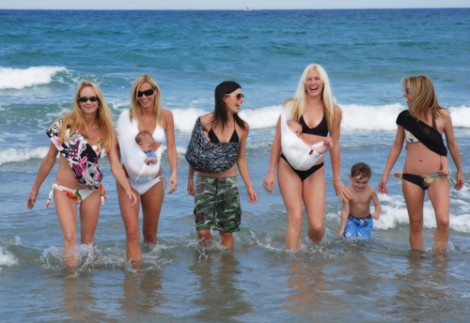 Carrying your baby in a sling, or baby-wearing as it's also known, has become hugely popular in recent years, to the extent that an entire market has emerged offering a vast range of slings and baby carriers. But trying to choose the right one for your needs can be something of a minefield.
The benefits of baby-wearing are well-documented. Studies have indicated that quality baby slings and carriers have been shown to save lives, improve health, decrease crying, increase IQ, and facilitate breastfeeding and bonding. Research also indicates that worn babies are happier and spend more time in the quiet alert phase, which is instrumental in language development and knowledge acquisition.

Babywearing also helps babies sleep better and  their physical needs, including breastfeeding, are met more quickly by a close, responsive parent. Some research has shown that carrying your baby in a sling helps her to adjust to the world outside the womb faster, because your comforting presence mimics the experience she had in utero of constantly hearing your heart beat and voice. There are lots of other benefits too, including the sheer practicality of being able to carry your baby while still having two hands free, and the ease with which some slings make it possible to breastfeed while on the move.
However, recent press reports have indicated that there may be some dangers associated with carrying your baby in certain types of slings. The U.S. Consumer Product Safety Commission (CPSC) has raised concerns about 'bag-style' baby carriers. It is thought that 14 deaths have occurred in the US over the last 20 years, all linked to the 'bag-style' sling, and as a result the Infantino 'SlingRider' and 'Wendy Bellissimo' slings have been urgently recalled in the UK, Europe and North America.

Consequently, UK sling retailers and manufacturers are taking steps to ensure that parents have the information they need to continue to position their babies in the safest way possible and use safe designs of baby carriers
In "bag-style" slings, it is thought that the baby can lie in a curved position which might increase the risk of sufffocation.  Excess fabric with an elasticized edge may cover baby's face and inhibit breathing. The design may cause the baby's face to turn in toward the carer's body, with potentials risks that a baby could be smothered. 'Bag-style' slings also obstructs the baby from the parent's view, due to the high and gathered side panels.
But the vast majority of baby carriers and slings are still safe to use, if parents ensure they hold baby in proper alignment and fit snugly by design and instruction. These safe designs of sling include shallow pouch-style slings, ring slings, soft carriers and wrap slings.

Advice for Parents
If you carry your baby in a bag-style sling, Rebecca Ward of the Consortium of UK Sling Manufacturers and Retailers advises you to contact your local babywearing group through Sling Meet www.slingmeet.co.uk for advice on alternative slings.
Rebecca says, "While we are unaware of any fatalities in the UK in these bag style slings at the present time, we would caution against using them in light of the recommendations by the US Safety Commission."
If you have another sort of baby carrier, Rebecca advises; "No safety problems have been brought to our attention with any other baby carriers. Make sure you read and follow the manufacturer's instructions."
When using a baby sling, the advice provided by the Consortium of UK Sling Manufacturers and Retailers is to follow these basic principles:
Keep your baby close and keep your baby safe. When you're wearing a sling or

carrier, don't forget the T.I.C.K.S checklist for ensuring your baby's safety:
Tight
In view at all times
Close enough to kiss your baby's head
Keep baby's chin off its chest
Supported back
More information on Baby Sling Safety is available at www.babyslingsafe.com
To find out more about baby wearing and get advice on safe ways to carry your baby there are several trusted websites that can help, many of which have details for where to buy slings, too:
· Slingmeet
· TheBabywearer.com
· Facebook page for Babywearing Safety
· Mothering.com
· LaLecheLeague

The following sling manufacturers are members of the Consortium of UK Sling Manufacturers and Retailers, and will be able to provide further information about the safety of their products.
Baba-licious, Baby Armadillo, Baby Bean, Babyhut, Big Mama Slings, BORN, Brightsparkslings, Calin Bleu, Close Parent, CN Sales, Daisy Chain Slings, HippyChick, Huggababy, Kari-Me, Lifft Slings, Little Possums, Mama Natura, Napsack, Natural Connection, Naturally Happy Slings, Natural Nursery, Ocah Carriers, SaSaSlings, Sling Jax, Slumber-Roo, Snugbaby, The Carrying Kind, Wilkinet.