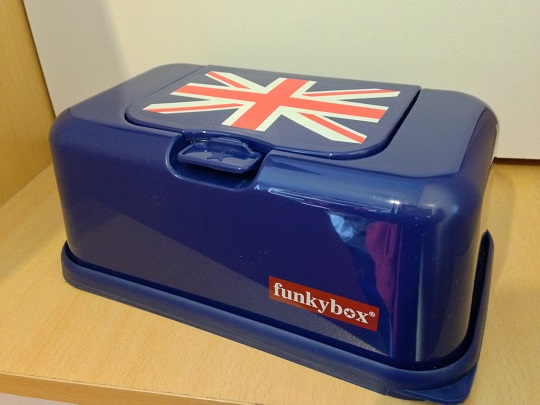 I am part the way sold on an item that is called Funkybox just on the name alone. However, this wee box isn't quite what you might imagine. If you're expecting something with sounds then you are out of luck! The Funkybox is a baby wipes dispenser, designed for use with most packet sizes. You can get this box in two sizes, normal and travel size - the Funkybox ToGo. The box comes in a wide variety of designs, and we looked at the latest addition to the Funkybox family, the Union Jack box. Which is rather in tune with today as it is St George's Day here in England. The Funkybox doesn't just take baby wipes. You can use it to put any packet of wet wipes in, and keep them from drying out. Toddler wipes for example. I also tested the box out using the anti-bacterial hand wipes I like to keep around. Even when your kids get older, wet wipes are still a necessity! I liked the design of this box. A dark purplish blue with the Union flag emblazoned on the top. This was a bit of a fun hit with all the family. I remember when my son was born, I really appreciated having the solid plastic wipes dispenser that came with my Bounty pack. That had advertising all over it, so this looks much nicer in the baby's room.
I passed it on to a family member whose baby has just reached the 5 month mark after trying it out, and she liked the box for the same reason. The design is better than the other box. The bottom unpeels so you can pop in the packets of wipes, so there's no double lid at the top. And the lid pops open with the press of the button. The opening is plenty big enough to pull through most types of wipes quite easily.
There is only one downside to this box. And that's the price. At £15.99 none of the testers I showed it to felt they could justify spending that kind of money on a wipes dispenser. Even if it did look really good. As one mum said, she just didn't leave a packet of wipes around for long enough for them to dry out anyway. Mind you she has an 18 month old and a 6 month old.
I looked around to see if I could find a good deal on this box. Out of all the stockist the best offers were from Amazon, they were still all £15.99 but with free delivery if you have Amazon Prime. The cheapest I could find the box for was £13 from Rosebud Baby but then delivery costs £3.95. If you are buying other items from the site, delivery is free if you spend £50 or more.