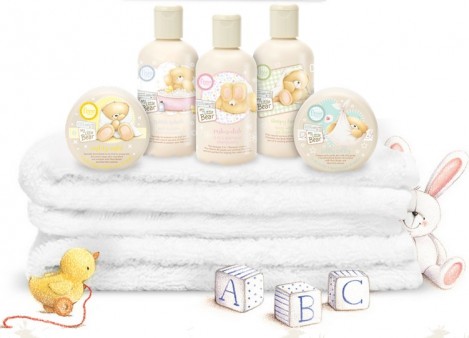 Aw bless. A Forever Friends range of baby skin care products. My heart melted just looking at the beautifully designed website. Forever Friends Baby Naturals has a small range of five products that will take you through your baby's bath and nighttime routine.
I was particularly impressed by the attention to detail. A commitment to leaving the planet in a reasonable state for the babies its products will be used on means that all bottles and jars can be recycled.
We gave the range to PlayPennies mum Emily, to test with her one year old daughter.
Nighty Night Cuddle Lotion
The Nighty Night Cuddle lotion (£5) comes in a 150ml jar. It is a moisturiser designed for those dry areas, but also for giving a lovely, night-time massage to your little one. It is made with shea butter and aloe vera extract.
Emily particularly like the refreshing smell released when you open the tub. "The cream is more jelly like than I have seen on most creams, it doesn't seem really thick. But when put on the skin, it's a really nice smell, and a non-greasy finish." Another plus for Emily was that the cream dried in fairly quickly, which is always important when you're using it on the little ones.
She also offered some to her other half, who used the cream on a dry patch of skin on his elbow.  " At first he thought it was nice, but then he said "oh-oh." He said it felt warm, which can sometimes be a bad sign that he's going to be allergic to a product." Luckily though the warmth disappeared after a little bit, and it didn't have any adverse affects. Emily explained that "it's moisturised the dry patch pretty well, and looked good when I checked on it after a few hours."
So good for little ones, and the grown up members of the family.
Softly Softly Body Butter
I particularly liked the sound of this. My son had very hard skin as a baby on his legs. It was particularly uncomfortable, and we used to have to massage him in olive oil three times a day.
Which is fine really, but it is a bit disconcerting to have your baby smelling like dinner! The Softly Softly Body Butter (£6) comes in a 150ml jar as well. It has the same fragrance as the Nighty Night Cuddle lotion. The key ingredients are also Aloe Vera and shea butter.
Emily wasn't so impressed. "As a body butter, I think this falls a bit short in the texture aspect. I used body butters through my pregnancy on my big belly, but the Softly Softly body butter seems just like a moisturiser, and doesn't have that buttery texture whatsoever."
As she had the two products together Emily couldn't help but compare them both. "I could not really see any difference between the two creams."
Splish Splash Bath Bubbles
The Splish Splash Bath Bubbles (£4) 150ml was a hit and a miss for Emily. She liked the fragrance, which wasn't too strong in the bottle but filled up the room nicely. The key ingredients in this product are Calendula and Camomile.
The bubbles were disappointing however. "It didn't make huge bubbles in the tub."
Sleepy Head Body Wash
The Baby Naturals Sleepy Head Body Wash (£4) 250ml  is a clear gel, similar to the bubble bath. When Emily used the body wash, she found it made a really nice lather on the skin, and rinsed off easily. "It also left a really refreshing fragrance on the skin, I really liked this body wash."
It looks like baby is going to miss out. Emily has snagged this one for herself. Her excuse? "I've got tons of different body washes for baby, so I'm probably going to use this one in the shower myself."
Rub A Dub 2 in 1 shampoo
The Rub A Dub 2 in 1  shampoo (£4) is very similar to the body wash. Emily explains "In a similar story to comparing the cuddle lotion and the body butter, I'd also have difficulty telling apart the shampoo and the body wash."
There was one difference though. "It was quite difficult to get up a good lather with the shampoo, but it did wash off easily, leaving a lovely fragrance on baby's head."
And Finally...
Emily thought that the fragrances and presentation of the Baby Naturals products were first-class. But actually using the products, she was a little disappointed in their performance.
But while she wouldn't buy them for herself she still would as a gift. "However,  I think I would still buy these as a gift for someone with a small baby or child. They're lovely bottles and smell great."