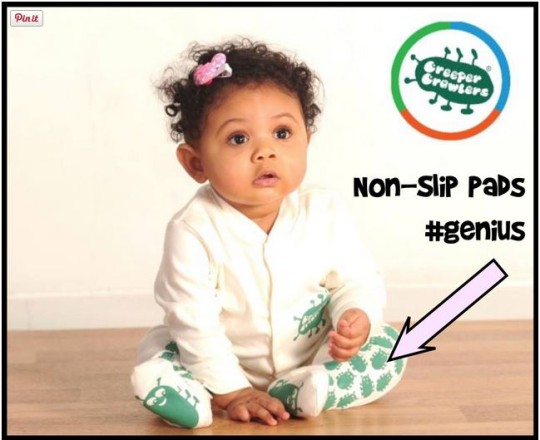 The Creeper Crawlers grip suit is a seriously clever babygro.
It was created by secondary school teacher Ollwyn Moran in 2012 whilst she was studying for her Master in Education in NUIM. She entered and won the colleges' Student Entrepreneur Competition with the idea for a babygro with grips, something she originally thought about over 12 years ago, and she went on to bring the product to market with her prize money.
Ollwyn also lectures part-time in Trinity College Dublin, but it was her training and work as a Neurological Developmental Therapist (NDT) that lead to the idea of Creeper Crawlers. Neurological Development looks at how the brain is wired and how the brain communicates with the body and vice versa. Ollwyn works with children and adults with learning and/or behavioural problems due to Neurological Delay, and says it was the rise over the last 15 years of general and mild learning difficulties, behaviour problems and diagnoses with the words 'spectrum' 'traits' and 'tendencies', that further embedded her belief that 'non-crawling' in babies may be a factor in those conditions.
Wooden and tiled floors, which have become more popular than carpets, provide no traction for the baby trying to get a grip on the floor to move forward. They slip, they slide, they get frustrated and then they give up – maybe resorting to bottom-hopping, bum-shuffling or going straight to walking.
The Creeper Crawlers grip suit is designed to provide traction for crawling babies. It can reportedly help to increase the chance that your child will crawl successfully, which in turn promotes healthy body and brain connections.

Developed and tested with a focus group of parents and babies, the grip suit is made from 100% cotton and is available in three colours - cream, pink and blue - and in sizes 6-9 mths and 9-12 mths. A 3-6 mths size will also be available soon.
We tested ours out on a fairly reluctant crawler, and besides the fact that she spent most of the time she was in it carefully inspecting the grippy green bugs on her legs, she did indeed crawl better whilst wearing it.
It helps that the grip suit looks pretty cute as well as having a very functional purpose. I like the green bugs and the 'creepy crawlers'  theme. It's the sort of suit that garners loads of comments, which kicked off lots of interesting conversations about crawling and neurological development.
I'd love to see a wider range of clothing with the creepy crawler grips on though, as I was conscious that our little crawling tester looked a bit out of place at baby groups where all the other children were wearing 'real' clothes as opposed to sleep suits.
The other issue that crossed my mind is that you'd really need to invest in several of these grip suits for maximum effect. Our little tester had a nappy 'event' soon after we popped the grip suit on her, so it was swiftly consigned to the washing machine which left us waiting a while before she could wear it again. At €14.99 (about £12.00) per sleepsuit the grip suit is more expensive than the average sleepsuit, so I can't say I would splash out on three in the same way that I might buy a three-pack of standard sleep suits from my local supermarket. Again, grips on a wider range of clothes would also overcome that problem.

Having said all that, we found that popping this on every morning for an hour or so gave our little tester ample opportunity to practice her crawling and improve her technique, so you could get your money's worth from only one suit, but I'd definitely like to see a multipack on offer in order to really let you make the most of this fab invention. I'd also love to see a wider range of colour options, as the pale colours tend to show up every tiny speck of dust on your floor!
We love the grip suit and will definitely be adding it to our list of brilliant buys for new and expectant mums, and we've been singing the praises of the product everywhere we go. If you've got wooden floors and are awaiting the crawling stage then I recommend investing in one of these, and if you've got a bottom shuffler or a reluctant crawler then it could be worth your while trying out the grip suit to see if it makes a difference.
One final word of caution though: do not tumble dry your grip suit, and don't iron the little creepy crawlers!
Pros: Absolutely brilliant, inspired idea, well executed.
Cons: They're not cheap and only available in single packs but you really need more than one to make the most of it - our crawler was a bit miffed / confused when it was in the wash and she had to wear normal sleep suits!
Overall verdict: 8/10 - we'd love to see more colours, multipacks and those little green grippy bugs on other clothing items besides just sleep suits. But presumably if enough people support the business, all of that could follow in due course...