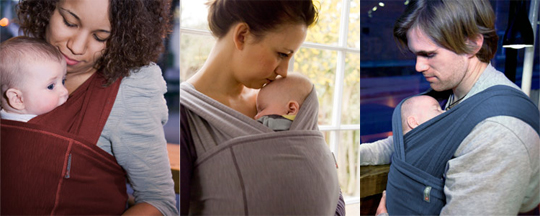 I love babywearing. For us it's become a way of life, and with our second baby we don't even have a pushchair, because we ended up carrying our first until she was 18 months, and have every intention of doing the same this time. It's wonderful going about your business and your day with your baby warmly and securely strapped to you, freeing up your hands and in many ways, freeing up your time.  In a sling, both my babies (so far!) cry less*, they're warm and content with the body heat and what's more, they don't develop flat heads! With my first I even did Latino Bambino – a form of salsa dancing where you carried your baby in a sling while you danced and exercised!
We have a variety of slings, and recently we've been testing the Caboo Carrier, sent to us from the NCT shop.  In babywearing speak, it's a sort of a hybrid between a Moby and a Mai Tai, as it has straps to fasten, and a length of material to wrap too!
This organic cotton carrier is versatile, incredibly easy to use and snug, secure and feels really solid. They can be used with even premature babies, from birth up to toddlers at 32lbs – and in fact babywearing is recommended for premie babies as retaining the womb-like environment has amazing benefits.*
Because the Caboo is designed with various parts already in place, it is really quick to put on and takes around 30 seconds to put it on and put baby in place, once you know what you're doing.  It also comes with an instruction booklet and a DVD to show you how to use it in different 'holds', if you can't figure it out from the pictures.
The Caboo Carrier is suitable for use in five main positions: baby can be upright facing inwards, upright facing out and in a breastfeeding position which makes feeding on the go while out and about really simple and discreet – and is particularly useful when you have an older child who doesn't get sitting at home while mummy establishes breastfeeding in those first six weeks!
There are also two older baby positions, so you can still carry your baby into toddlerhood safely and securely.
Caboo carriers are only dyed using Oeko-tex standard dyes, that contain no harsh or harmful chemicals, and it adheres to all the relevant safe baby carrying guidelines and safety standards.
The Bad
I'm starting with the bad this time because there's not a lot to say. In fact I can only think of one thing.
It doesn't have a back carry  position which is certainly easier when baby turns into a tot.
The Good
Well, for me, this is a long list.
The Caboo looks good. It's neater than some other stretchy wraps and is as easily used by men as by women as it doesn't look overly girly.
The 'cover' bit that you use to secure the baby is also the bag that you can use to store the Carrier when it's not in use. This is incredibly helpful.
Unlike, for example, the Moby (which we love too), there's not an endless supply of material, so you don't have half your sling dragging on the ground while you're trying to wrap it around yourself.
At £50 - £60, depending on the supplier, they're comparatively priced to other baby carriers on the market.
 These aren't the 'crotch dangler' style carrier, and as such there's no danger to baby's hips or spine – in fact, it promotes the natural womb experience and goes with the 'frog legs' position.
The rings make it really easy to adjust and keep sturdy.
It's very easy to keep clean too – just pop it in the washing machine.
The Caboo carrier has thick and wide straps meaning you don't have thin bits of material cutting into your skin as your baby gets heavier.
The Verdict
I love the Caboo Carrier and even my husband has worn it with his little girl to great success. Actually, it's a definite way to make women swoon: strap a baby (securely and in the right kind of sling!) to your chest. It's just an incredibly sweet thing.
There's so much to like about this baby carrier. It's not hurting baby's spine, it's keeping them close, and there's little so good for oxytocin and feel good hormones as the smell of your new baby just under your nose.
Sources:
Dr Sears - Benefits of Babywearing
Dr Sears - Babywearing Premature Infants