Bundlebean 5-in-1 Waterproof Fleece Blanket Review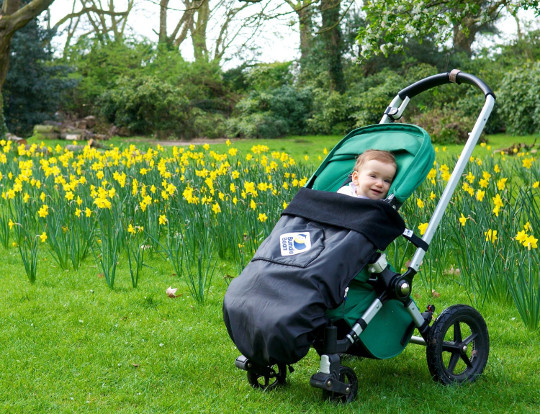 One of the realities of modern parenting is the constant barrage of new products that are designed to fit this or that supposedly essential need. So the BundleBean is immediately off to a good start with its claim of being a 5-in-1 Waterproof Fleece Blanket*.
It isn't being touted as a single wonder-product that solves one particular problem, but rather an add-on to kit you've probably already got, like a push chair or car seat.
The BundleBean is a blanket about the size of your standard baby changing mat, with waterproof nylon on one side and soft fleece on the other. It's designed to create a pouch that fits onto any push chair, car seat, bike seat or inside a front-style baby carrier, with the fifth use in the 5-in-1 the option to use it as a simple play mat or picnic rug.
Nothing special there, you're no doubt thinking, but the clever bit is the pair of adjustable zips on the lower half of either side of the BundleBean that 
can be pulled upwards to tighten internal elastic drawstrings and gather the bottom part of the blanket for a snug fit around your child's feet.
Still, a price of £30 for a product that essentially relies on you already owning several other products (unless you just plan on using it as a basic blanket or play mat) means the BundleBean really has to deliver on all its promises.
The good news is that in just about every case, it does.
\It's as snug and cozy on the inside as it is durable on the outside, and every aspect has been carefully thought out to give you just what you need whichever of the BundleBean's versatile uses you're putting it to. The velcro straps located towards the top and bottom for instance, are there to secure the BundleBean to a car seat, push chair or bike chair. But they're also elasticated, which makes all the difference if you're using it inside a baby carrier with the top strap wrapped around your neck, or if you want to tighten the bottom strap around your child's legs.
Similarly, the zip system for controlling the elastication is great as you can make fine adjustments quickly and safely without undoing anything, and the elastic itself is inside the blanket so can't chafe against your baby's legs. It's still by no means a budget purchase, but if the concept of the BundleBean makes sense to you, then the product itself will completely live up to expectations.
My test sample was in all-black but there are several colour and design options to suit most tastes. In all the BundleBean is well designed and versatile, and it's become a useful addition to our collection of parenting "kit" for days out and the like, particularly in this weather. It rolls up and stows away easily in its see-through tubular pouch, and has come in handy as an added protection against the winter chills and a practical way of protecting against rain and damp surfaces.
The Good
There are a lot of good features in this BundleBean:
It's multipurpose, which is good for your pocket, the environment and your back as you carry around baby stuff!
It's easy to change it to into what you need
You can keep little ones warm in car seats without putting anything between them and the carseat
You can take it off without waking them I love the pocket on the front for keeping my hands warm in a sling - it's like a built in cuddle ;)
It folds up pretty samll, which is a bonus
The Bad
It's not a cheap blanket, but its not too bad either.
The Verdict
I must admit I think it's genius. It's so much easier than fiddling with a blanket, which gets dragged around next to a pushchair and forgotten in a playgroup because it's warmed up a bit.  It's better than carrying a blanket, a playmat, a changing mat and all that - all in one is always better.  It's well thought out, simple in design, great in application and will definitely be used well in this weather.