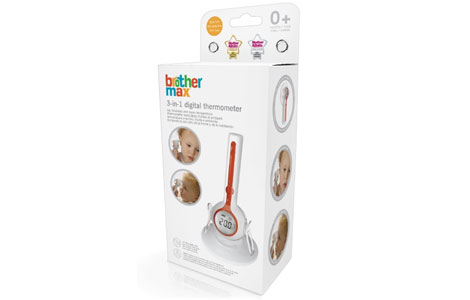 We were very excited when BrotherMax sent us one of their digital thermometers to review.
Our panel of parents were somewhat keen too. When we casually asked, "Who would like to review a BrotherMax 3-in-1 digital thermometer...?" we were met with hands shooting up in the air and cries of, "OOH! OOOOH! ME! ME!!!!"
It was no surprise really; BrotherMax products are designed with function, ease of use and the parent in mind, and more importantly a good, accurate thermometer is on every parental 'must have' list.
I'll be honest, I'd feel completely lost without a thermometer in the house. When your children are still babies and can't tell you that they're not feeling well, a high temperature is often one of the first signs that all is not right.
Knowing the degree count of a high temperature is essential, it means the difference between giving something to help bring the temperature down and keeping a close eye on your child, or calling the doctor and whisking them off to the out-of-hours service or A&E.
We decided to 'share the love' and gave the BrotherMax 3-in-1 thermometer to two mums, Emily and Tanya, to try out.

The thermometer comes in a case and has a stand, Emily was non-plussed by this, telling us, "I probably won't use the stand and will just throw the case in the drawer."
Tanya, on the other hand, had this to say, "This has to be the coolest thermometer EVER! It is AWESOME to look at," we came to the conclusion, at this point, that Tanya liked the thermometer!
"Not only is the screw top white storage container dead cool BUT you also get a stand for the thermometer itself.  Pop it into the holder and there you have an ornathermometer – ornament thermometer - it's currently sitting on the mantelpiece in the lounge. I L.O.V.E IT!"
Most digital thermometers on the market, that I've come across, only allow for in-ear readings to be taken and can take a few seconds to come back with results.
The Brother Max 3-in-1 thermometer does more and does it faster. You can take an in-ear, forehead AND ambient room temperature reading with it and it will return its results to you in just one second!
Both Emily and Tanya were very impressed by this, "There's none of that faffing around, sitting with a thermometer on some part of your child for about 5 minutes," Emily reported back to us.
"I tried it on my baby's forehead, which seemed to work well. I know that forehead measuring isn't quite as accurate as in-ear, but when you're trying to take the temperature of a twisty baby, this is ideal."
Tanya was equally impressed, "My daughter and I played with this for at least an hour. I loved fiddling with the different settings and checking her temp with ear and forehead (when she let me) and reading the instructions."
Tanya also spent a good portion of the time with it in HER ear because her daughter was having such a lot of fun playing 'nurse'.
This is actually a good idea; if your child gets accustomed to the thermometer and is used to having their ear proded, for temperature reading purposes, when they're feeling well, then it won't be so much of a potential drama when they're not.

"It was also my daughter who figured out how to get the thermometer to change modes!" Tanya told us, now that is one smart little four-year-old she's got on her hands, "She figured out how to move the picture from room and ear to forehead and then proceeded to stick it onto my forehead. I swear I had a tube mark on my head for days."
The display screen is backlit so you can read it easily in the dark. If you're child is unwell and has just dropped off to sleep, the last thing you want to do is have to turn the light on and disturb them.
Everything has been kept very simple, there are no probe covers to remember - you just wipe it clean - and the protective case makes it ideal for packing away and taking with you on your travels, whether you are going out for the day or away for longer on holiday.
And Finally...

The BrotherMax 3-in-1 thermometer retails for £34.99.
Here's what Emily had to say on the issue of price, "I know that £30+ is a lot to spend on a thermometer but it's so easy to use!  There will definitely be one in my home for many years to come."
Tanya was of the same mind, "Accurate, brilliant and worth every single penny," she raved, "they do say that ear temp' is the most accurate so this is something I've always wanted to try. Thank goodness thermometers have come a long way since my day when they were stuck up..."
A-N-D on that note I think we'll leave it there, and can safely conclude that the BrotherMax 3-in-1 thermometer gets a huge thumbs up from both our mums.