Brother Max Food Portioner Review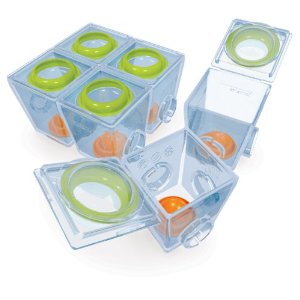 I was rather intrigued when I saw Brother Max Food Portioners on the review list - what on earth were they!?
Well, food portioners obviously - that bit of the title does give away a BIG clue - but Brother Max? I'd never heard of them before!
A quick visit to their website soon revealed that they are a relatively new company, founded in 2005, as a result of a motorbike, car and washing machine designer turned father who felt there had to be a way to make every day baby tasks easier.
I wish I'd known about these food portioner pots when my youngest was little...

When I think about the faff and fiddle that comes with home-made weaning *shudder*
Ice cube trays just didn't work for me - my freezer is just too busy with two teenagers in the house conducting raids on it every half an hour, and everything ended up everywhere.
I tried other little pots that had lids on, but they were generally round, after being bounced around in a bag for a few hours I discovered that the lids weren't that secure; it was enough to drive me round the bend and THEN, as with socks, over time I ended up with more pots than lids - where did all the other lids go?!
Tamsin and her daughter test-drove the Brother Max Food Portioners for us and took them on a jolly outing to London for the day!

"These pots are really cute! They're brilliant for both weaners and back to schoolers - we're through the weaning stage now but snacks-on-the-go are still an essential part of our going out paraphernalia!" Tamsin told us.
"They fit all my lunchboxes and are just ideal for raisins and snacks at school," she continued.
She's right about the raisins - those  little cardboard boxes of raisins just don't stand up to the rigours of my kids' school bag abuse and neither do little cheapo plastic sandwich bags with a knot tied in them.

"We took ours to London and they SO came in handy for a hungry tot on the train. The lid is really secure too, we know this as the food portioners got bashed around in my bag something fierce!" said Tamsin.
I've seen what Tamsin's bag has to go through every day, anything that can withstand being inside it for a day, let alone on an outing to London, and come out unscathed is tough, and strong, enough to be admitted in to the SAS!
But what about at home?
"The Brother Max Food Portioners are square and can be squidged together so they all join up, but still keeping the food separate, and fit nicely into squareness of fridges, freezers and lunchboxes," revealed Tamsin, "AND if the contents of the pots are hot, then the connector doofers on each side act like little heat proof 'handles' so you don't have to juggle them in your hands when you take them out of the microwave."
Tamsin was very taken with these pots, "I really like that the food portioners come with a pen so you can write what's in each one on the side - the number of times we played 'guess what the baby is having for lunch today' when we were in the weaning phase!"
One of my favourite design features of the Brother Max Food Portioners is their hinged lids (I clearly have a thing about lids)! The thought of not having to relegate perfectly good pots to the back of the cupboard because they've lost their lids is very appealing to me!
And finally...
Freezer safe, microwave safe, dishwasher safe, Tamsin's bag safe - these really are robust little guys that are going to save you time, faff and mess and will withstand the roughest of school, and parent, bag treatment!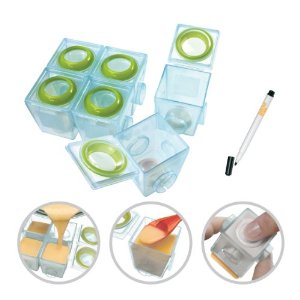 They come in two sizes - 6 small pots holding 40ml each or 4 large pots which will hold up to 170ml - and are Phthalate-free, PVC-free and BpA free which, if the current research turns out to be correct, can only be a good thing!
The Brother Max Food Portioners are available from Amazon, Boots, Mothercare and other places (see the Brother Max wesbite for full stockist details) and both retail for a very reasonable £5.99.
A great price for a great product as far as we're concerned!