Boots Baby Products: £5 Off £20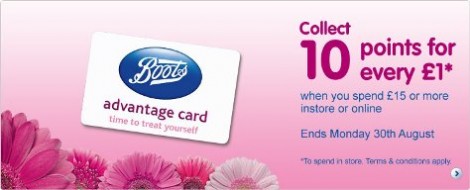 This voucher code will deduct £5 off your total when you spend £20 or more on Boots baby products.
Click here to get £5 off when you spend £20 on Boots baby products
Discount: £5 off
Minimum Spend: £20
Applies To: Baby Products
Promotion Code: PCBS23
Expires: 6th September 2010
Enter the code in the Promotion box on the Basket page. When I entered the code, it told me I'd successfully applied the Parenting Club code to get £5 off my total, yet this deduction did not appear on my total. However when I left the page to do some more shopping, and came back, the deduction had been applied.
I used the code on an item that was on sale, and on three packets of toddler baby wipes that were in a buy one get one free offer. It worked with both these types of discounted products.
The code only applies to baby products. It is clear from user comments on HUKD that it doesn't work if you try to use it in other Boots sections.
Thanks to HotGBDeals at HUKD!