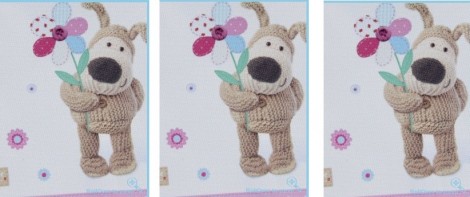 love the Boofle bags from Clinton Cards. It was the name that got me really. I have a thing for funny-cute names and isn't Boofle just hilarious? Anyway, I got a Boofle satchel for my daughter recently because her old satchel for swimming and extra mural activities had died a sad and threadbare death.
Boofle himself (or herself) is a cute knitted dog-like creature who appears on the range of satchels on the Clinton Cards website. The range comes in a variety of colours, many of them in a neutral caramel brown, and styles.
The one I got is a stunning patchwork effect design that is in lovely colours of pink, red, blue, green and white. The Boofle logo is stitched onto the corner in fabric while the rest of the bag is wipe friendly plastic. However, the other bags are the same material and quality and they can be personalised if you fancy adding a name or two. That I really like as an idea!
It sounds unpleasant but, honestly, it is really durable. Perfect for messy kids and their stuff. Half eaten apples, weird damp items – all the things that kids stick in their bags can make them pong. This bag is easy to wash inside and out as it doesn't have any easily damaged fabric.
The bag can be closed using the large overflap and the Velcro seals or/and you can zip up the bag for extra safety. There is only one compartment but it is big enough to store all your child's swimming kit or to use as a school bag. My daughter isn't allowed fun school bags (cry) so this is used for sleepovers, swimming and playdates.
The straps are adjustable, it can double-up as a nappy bag in a pinch, and you can buy this lovely thing for the fabulously low price of £4.99. Wahoo!