My house is starting to resemble a sling library with all the baby carriers we've been testing and trying out in recent weeks. With my eldest it was simple – we bought a very popular baby carrier, and four weeks later found it was pretty uncomfortable and my baby was getting too heavy for my back. Someone recommended a Mei Tai and the rest, as they say, is history. I happily and comfortably carried my daughter until she was 18 months old and I was pregnant with my second baby.
This time round we've had a newborn wrap, stretchy wrap, sling, Mei Tai, the Caboo and now, the BabaSling. The reality is that you don't need so many, and the best thing to do is join a sling library or borrow from other people who use them until you find the sling that's right for you.
The BabaSling has many excellent features, and in preparing for this review I spoke to friends who've used it and generally it is well liked.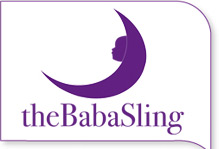 The BabaSling is 100% cotton, and designed with foam shoulder padding. The railings also have ample foam padding. There is a large buckle and a smaller safety buckle with nylon webbing, made from tough and durable acetyl.
For the 2 to 9kg babies there are four positions, and then another three suitable for older children and it's been rigorously tested to meet the European Safety Standard BS EN 13209/2.
Ideal for babies, there are also a few breastfeeding friendly positions for carrying in, so that you can nurse discreetly and comfortably.  At a BBQ over the Jubilee weekend, I was standing chatting to friends when one commented about how well my daughter was sleeping – I replied that she was actually nursing and my friend laughed saying how fab it was that I could carry on with no one even being able to tell I was feeding!
The only real problem I came across with the BabaSling, and why it's not my go-to sling at the moment but might become as my baby gets older, is that I found that it kept riding up against my neck and I had to keep readjusting it. I spoke to the person who runs our local sling library about it and she agreed that while it is a one-size-fits-all baby carrier it seems to be better suited to smaller people. And in fact the other mums I spoke to agreed – the smaller ones loved the BabaSling, but larger mums may find there wasn't enough room for them, their babies and their cleavage.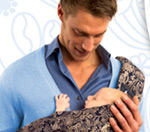 That is my view with a newborn at the moment too, but it did feel better when I tried to carry my two year old in it. That's my only issue with it– it's certainly not enough to be put off though.
From a 'health for baby' point of view, the BabaSling is definitely preferable to the 'crotch-dangler' style, forward facing carriers.
Another awesome feature of the BabaSling is the fact that it has a large buckle clip, so if your baby has fallen asleep in it, you can use the clip to take the sling off rather than taking baby out, and pop them down to sleep in a safe place without having to disturb them at all. This is a definite advantage over many other carriers!
I love that it's pre-made and there's no need to be figuring out different folds, knots and twists and turns. For that reason I think it would probably make a good starter sling and makes it particularly dad-friendly.
The Good
It's a good-looking sling.
It has multiple carry styles, so it will last you for quite a while – to two years, roughly.
It comes in a handy little bag that it can be stored in – you don't realise how handy this is till you have a baby carrier that can't be stored!
It's safe, secure and a highly recommended brand.
It adheres to the T.I.C.K.S , the 'rules' of babywearing, if you wish to call it that!
It's a great price and one of the lower priced you'll find. It's also cheaper than more 'popular' brands that aren't good for baby hips.
The Bad
Like most things, the ability to 'try before you buy' is a great money saver, but not everything works for everyone. Our favourite position in this carrier is the 'Joey' which is a forward facing one, but my daughter doesn't like the lying down positions in it.  That's not really a 'bad' feature of the sling – it's just a preference of the child.
The only other 'niggle' for me is that I am not sure that I could use this for a whole day without my back getting very tired. I can't quite put my finger on why, but it feels as if the centre of gravity is different on this carrier - possibly because the Joey carry, which we use, is forward facing and none of our other slings are forward facing. This wasn't a universal complaint with the mums I spoke to about it though.
The Verdict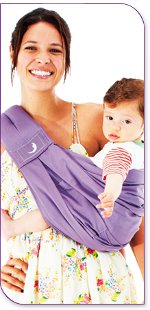 Go for it! You'll often find people who start babywearing talk about their 'stash' because while they started with one type, they quickly fell in love with another and before you know it, they (okay, we) have a variety of different slings. They also talk about their 'addiction' because there are so many incredibly beautiful options 'out there', it's hard not to want more. Also, even if I'd paid for every one of the five I currently own, they still cost less than half of the pushchair we were given for our first baby, which still lies in the garage.
The BabaSling is comfortable, mostly, it is simple to use, comes with easy to read instructions, it supports a newborn perfectly, makes breastfeeding on the move a doddle, keeps baby close to your heart beat and keeps your hands free for 'things around the house' or keeping up with other children.
Really, what's not to love?
Edit: A couple of months on, and I have to admit the Babasling has been retired to the charity shop pile. I just couldn't get on with the neck and shoulder position of it, and having tried a few other ring slings since, I much prefer them. I don't feel that I really got the use out of it that I have out of others.