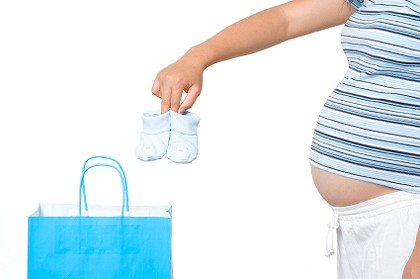 The first baby is a nerve wracking experience for most parents. I was no different. What to expect? How to plan? It is like you've fallen into this huge abyss of 'I don't know'.
This is made worse if, like me, few of your friends have babies and you are miles and miles away from family support. On top of that there's a huge industry out there with the sole purpose of targeting you and getting your cash. This is an incredibly lucrative business. Note the large number of magazines aimed at new parents. All stuffed full of product reviews and a slew of adverts.
Then take a look around the shelves in the news agents. Not so much for parents of older children, if anything at all. Even magazines with names like Families seem to be full of stuff for those with under-fives. I can't shake the suspicion that this is because, as our children get older, we finally get wiser. It isn't so easy to crowbar the cash out of our wallets.
Clever marketing
I admit it. I was a total sucker. I pretty much bought everything going. It was absolute agony browsing online catalogues, looking through the shops, reading magazines. Did I really need an item? What if I didn't buy it and it turned out to be that One Crucial Thing?
Liat Hughes Joshi is the co-author of 'What to Buy for Your Baby' (subtitle: Choosing the equipment that's right for you). She explains, in an article in the Telegraph that the categories of products "range from the ''vaguely useful in some circumstances'' to ''wastes of money that assume it is the parents who were born yesterday, not the babies'''.
The most useless product that Liat came across was the "Babykeeper, a US contraption that allows you to 'hang'  your baby on the cubicle wall while you go to the lavatory. It's alarming and hilarious, especially given it costs $40".
I have to say it was nice to find out I wasn't alone. When I asked around I was inundated with stories of expensive state-of-the-art baby monitors that were too complicated and never used. Bottle warmers that took forever to heat up, and ended up sitting uselessly next to the more convenient microwave. Shelves of parenting books that all contradicted each other.
Over pampered baby
Nicki is mum to three aged five and under. "I saw a baby wipes warmer in the shop a few weeks ago! Can't believe that someone would pay $40 to warm the baby wipes?" I can possibly understand getting a warmer given the winter we just had here in the UK. But Nicki lives in Brisbane where temperatures rarely dip below 20 degrees!

PlayPennies mum Sho thinks that the baby bath and changing table were her biggest wastes of cash. I have to admit that I never used my changing table that much. It seemed like a good idea at the time, when I was pregnant and my head was filled with cosy images of gentle baby moments. I had no idea how often a newborn needs to be changed. Or how tired I'd be, and how steep those stairs would seem after you've been awake half the night. It was far easier to whip out the changing mat from the change bag and do it all on the sofa.
It costs how much to sleep?
For some reason I felt obliged to get a bassinet and a Moses basket. Even though the cot part of the pram detached, and lay down flat so that it could be used as a bassinet.

Ani faced the same dilemma when pregnant with her son. "I insisted to my partner that we needed to have a crib as well as a Moses basket. Needless to say, the crib was used for all of ohhhh, two weeks I reckon Mostly as my son loved his Moses basket and we used it up to the last minute, by which time he was pretty much at the growing out stage for the crib too. Oh and it was an M&P swinging crib that actually didn't swing on the thread of carpet in our bedroom!"
Annmarie's least favourite purchase was "that horrible yellow nappy bin device (what was it called?) that wasn't supposed to - but absolutely stank. It turned them into a long roll of smelly sausages using more wrapping material."
Try before you buy!
Amongst the most useless items were those latest baby gadgets that everyone seemed to be raving about. For me it was the Bumbo, the baby chair that my son used all of twice. Luckily though that didn't suck up too much of my dosh. The problem, and what you don't realise as a new mum, is that all babies are utterly and vastly different. What will be brilliant for one baby, won't work for another. And you just don't know until you try it!
If I'd seen this next little gizmo at the time I'd have probably been suckered into buying it. Ani explains that "we also bought something that everyone (on mumsnet anyway) was claiming to be THE miracle for getting baby to sleep - a bizarre contraption called an Amby Nature's Nest, which was an expensive hammock type thing. Originally designed for prem babies it was supposedly marvellous for all babies... it didn't work for ours."
And Finally

My best mate, mum of one Donatella, is the opposite of me – which means she is far more sensible! Living the frugal parent's dream she hardly wasted a penny when her son was born. "I was always minimalist and never bought anything - no Moses basket, no changing table, no changing foam mat, no diaper genie, no baby bath, no mini toilet seat, no special bathtub. My son was bathed in the kitchen sink, changed on the floor (using a towel) and potty trained on an adult toilet seat. Those things are just consumerist rubbish, in my opinion. Our parents never had any of that nonsense."
Now it is time to confess. What items did you buy that turned out to be useless? And what wasn't?