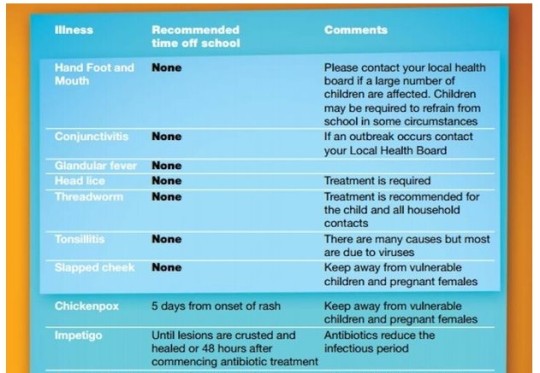 You know how sometimes there's something in the news that just makes you shake your head? Well, yesterday the Daily Mirror reported that the a Welsh consortium have released a 'health guide' recommending that children should not take any days off school when they have a number of relatively contagious or serious conditions including tonsillitis and glandular fever.
The Consortium, which is a joint effort between Cardiff, Vale of Glamorgan, Rhondda Cynon Taf, Bridgend and Merthyr county councils, recommends that students suffering with (highly contagious!) hand foot and mouth disease, conjunctivitis, head lice, threadworm, slapped cheek and the aforementioned glandular fever and tonsillitis should not be taking any time off school.
They do recommend that parents should contact the NHS, and in some cases - like head lice and thread worms - treatment is required, but no time off school. Fair enough, but when it comes to tonsillitis and glandular fever, I couldn't imagine sending the kids packing off to school! I certainly wouldn't go to work with either of those!
The Guide ends with an ever so unhelpful threat - "If your child is frequently missing school due to illness, medical confirmation may be requested from your GP and/or a referral may be made to the Attendance and Wellbeing Service or Education Welfare Service."
Parents who have received this 'guide' have not responded too positively - to the newspapers at least - with one saying that her daughter had Hand, Foot & Mouth disease, ""If she talked she would dribble as it was too painful to swallow her saliva, so there was no way she could have gone to school. Who makes up this rubbish?"
Karen Roberts, Vice Chair of Governors Tonypandy Community College, was quoted as saying that children couldn't learn if they weren't at school, but as a parent and, well, a person I'm not how much they'll be learning with a raging temperature and sore and swollen glands either!
I know that I would never send my children to school if they were that unwell - I'm not talking about a runny nose in winter, I mean unwell - but would like to think that as  parent, that's  abdecision I would be able to make in the parenting of my children.
What do you think? Would you send your children to school with hand foot and mouth disease, conjunctivitis, head lice, threadworm, slapped cheek, glandular fever or tonsillitis?