In today's Celebaby forget strolling, pedal power is the new way!
On yer bike...or is it a stroller?!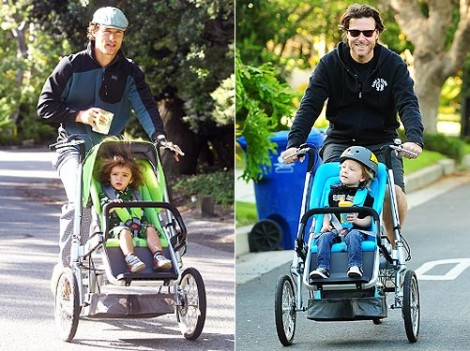 Two Hollywood celeb' dads have ditched strolling with their young progeny in favour of pedal power.
But these bike-stroller contraptions are FAR more cool and funky looking than those plastic seats you attach to the back of your normal bike - the mental image of them riding around Hollywood with one of those whilst being papped by the snappers has just amused me greatly!
Matthew McConaughey and Dean McDermott are both fans of this amazing hybrid method of parent-child transportation - I had a quick hunt around and discovered that us mere mortals can buy them here in the UK too!
The Taga 2-in-1 Stroller Bike comes with a celebrity price tag though, but if you've been wanting a slice of celebrity parenting lifestyle for yourself, this could be just what you've been looking for.