Celebaby: The Twitter of Tiny Feet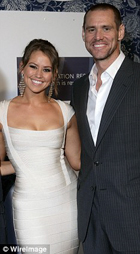 Love it or hate it, get it or don't get it, Twitter is proving to be very popular among celeb' parents for sharing their baby news.
And now celebrity grandparents are using the micro-blog site as a platform to make birth announcements too; actor Jim Carrey (47), now five days into his new status as 'grandpa', posted the following message on his Twitter page:
"Jackson Riley Santana, My Grandson, Born today! This is what 7lbs.11oz. of California dynamite looks like!"

Jackson is Carrey's first grandchild and is the first son to his 22-year-old daughter Jane and her husband Alex Santana.  Both Jane and Alex are singer-songwriters and Jane says, "I've always wanted to be a mother and I've always wanted to do music, so to have the two together, it's just awesome. It's a dream come true."
Jane has also spoken about her relief when they found out she was expecting a boy, "I'm excited about it because I never really got along with girls growing up.  'I was a little afraid that if it was a girl that she would not like me, you know? So I'm very happy about the boy."

But Jim isn't the only guy in celebrity-Twitter-land to boast about his offspring, if you tweet along with BBC Radio 2 DJ Chris Evans you'll be kept pretty up-to-date with news and photos about what him and his son Noah, recently turned one,  are getting up to.
The last tweet (that's what Twitter posts are called by the way) to feature Noah was posted on Sunday 28th February and read:
'Noah - with his Uncle Timmy and Grandad Rolf having a proper old fashioned time around the old joanna' along with THIS photo.
Imagine that,  popping round to Mr Harris' place for a bit of a sing-a-long-a-Rolf on a Sunday!  Ok, could be a nightmare for some but I think it would be pretty cool!