Celebaby: Supermodel Simpson?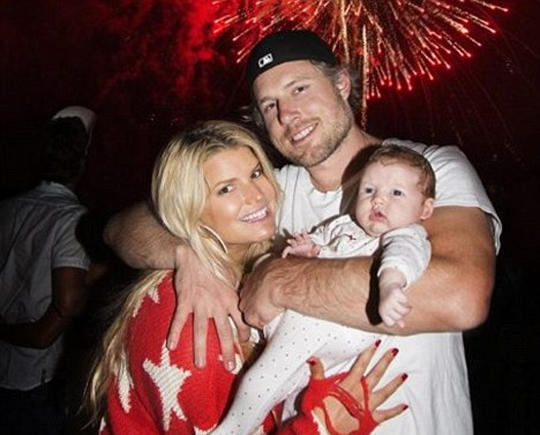 You remember all of the 'drama' and stories surrounding Jessica Simpson when she was pregnant, don't you?
She freely admitted she was eating up a storm of pop tarts and whatever else she fancied and the weight very quickly piled on.  SO much so, in fact, that it caused other celebs to pass comment and judgement.
Snooki was just one of them and vowed that she wouldn't go down the same path during her pregnancy, citing pictures of  Jessica and her ever-increasing girth as her pregnancy 'thinspiration'.
Jessica got all upset, Snooki said her 'Jessica butt comments' weren't meant in a negative way and that she lurved JS's large curves, others waded in in defence of Jessica and all the while she just kept getting bigger and bigger and bigger.
'A lot of amniotic fluid' was one of the reasons given and maybe a rather lucrative contract to be the new face of Weight Watchers too!
Jessica's daughter, Maxwell, arrived on 1 May and in order to be paid $4 million bonus by Weight Watchers, she needed to have lost between 20 and 30lbs by the end of August - FOUR million dollars for losing between 1 and 1.7lbs a week?!  That's money for old rope and wouldn't require any special Weight Watchers powers, or an army of personal trainers to the stars either!
Switching regular junk for regular good things, the occasional treat, and a brisk walk for 45 minutes to an hour a day would have the same net result.
Anyway, much noise is now being made in the media (at the request of the Jessica Simpson PR machine, no doubt) as to whether or not she's managed it, that she's finding it really hard, how JS herself says she's just an ordinary girl bla bla bla and hasn't pinged back to her pre-preggars form (which from memory wasn't very supermodel like anyway!).
THEN there are headlines claiming she's only 10lbs off her pre-pregnancy weight - rumoured to have gained at least 70lbs that would be seriously 'impressive', but something 'an ordinary girl' could achieve without an army of help and staff and the carrot of a $4M bonus dangling in front of you on the treadmill?  I don't think so!
The unveiling of this new post-baby body is set to take place on American TV either this coming Monday or Tuesday (reports vary) - so it won't be long before we can see the results for ourselves - I can barely contain my 'excitement'.