Celebaby: Sparrow Richie & Levi McConaughey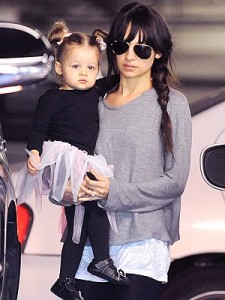 See? We told you little celebs in tutus was going to be The Next Big Thing.
Now Harlow Winter Kate Richie is getting in on the act, although she manages to rock the rock-chick-ballerina look with a groovy black ensemble.
The little dancing girl was papped out and about with Mum Nicole Richie.
Harlow has a little brother, Sparrow James Midnight, but at six months old he's obviously too young to be digging out the dancing shoes.
Give it time though, and we reckon he'll be throwing some moves too...
Speaking of cute little dudes, while out getting some fresh air in Los Angeles on Thursday, a shirtless Levi McConaughey enjoyed the warm weather as he stopped to investigate some funky flowers, reports People magazines baby blog:
"It's no surprise that the 20-month-old enjoyed his nature walk. According to dad Matthew McConaughey, while 13-week-old daughter Vida is a breeze to care for, he and Camila Alves must always keep their eye on their busy boy!"
Dad Matthew is said to have joked that he can't even go out and walk in the backyard and daydream for five second because of the likelihood that his son will end up on the roof in the seconds that his father's back is turned!