Celebaby: Simon Cowell's A Daddy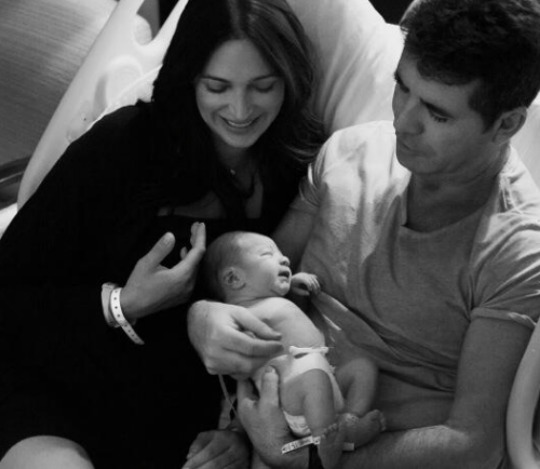 Unless you've been living under a rock of late, you can't fail to have noticed that Simon Cowell finally became a Daddy this week.
And as is the norm these days, the pop mogul took to Twitter to share news of his new arrival with his followers. But unlike other celebrity parents, Cowell was only too happy to share his baby's name with the world.
He tweeted:
"Very happy to say Eric was born at 17.45pm. Healthy and handsome."
Later on, Cowell followed that up with this little nugget of info:
Lauren in great shape. Thanks for all of your kind messages.
And a little while later he added 'Named after my Dad' before tweeting some adorable snaps of his son, along with the caption 'Mum, Dad and Eric. Now two days old' and 'Now you can see how very handsome little Eric is'.
Aw. Besotted, much?! And just in case we hadn't all heard enough about baby Eric, Cowell couldn't resist filling us in on a little more detail, tweeting:
"I never knew how much love and pride I would feel."
He added:
"The last three days have been incredible. Eric Lauren sqiddly and diddly all happy."
Squiddly and Diddly aren't nicknames for Lauren and his beloved new baby, however, but rather the names of his pet pooches.
The Daily Mail reports:
He may have been a somewhat reluctant first-time daddy, but it seems that Simon Cowell is more than making up for his hesitancy now.

After those black-and-white portraits — which, interestingly, were taken by a professional photographer in the hospital — he has been unable to resist sharing more images of his delightful newborn son.

This time, though, little Eric is slightly out of focus and surrounded by cuddly toys, in images that will look familiar to all new parents, not just those worth £250million.

It seems that life for Cowell, at 54, has changed more than he could have imagined. But his apparent contentedness may be partly because he's struck it lucky with Eric, who appears to be a very quiet child.

One of Cowell's friends says: 'Eric is a lovely baby. He's calm, sweet and very handsome. Simon's loving every minute and won't put little Eric down. He's taken to it like a natural and can't stop smiling.'
As anyone who's ever had a baby will know, it's probably a little premature to suggest that baby Eric is calm and quiet. Best to give it a bit longer than 48 hours before making such assertions about a baby's temperament - I know my babies all took a few days to wake up properly, and once they did they weren't exactly calm or quiet as newborns!
But it's lovely that fatherhood appears to have mellowed Mr Cowell. We wonder how he'll cope with the sleepless nights though? And how long before the lovestruck new Daddy changes his stance on nappy duty? (He famously refused to have anything to do with that side of caring for his child.)
One request though, Simon - please no nappy changing pics on Twitter. No matter how much you enjoy rolling up your sleeves and getting your hands dirty in the process of fatherhood, that's one snap that none of us need to see.