Celebaby: Shiloh Turns Six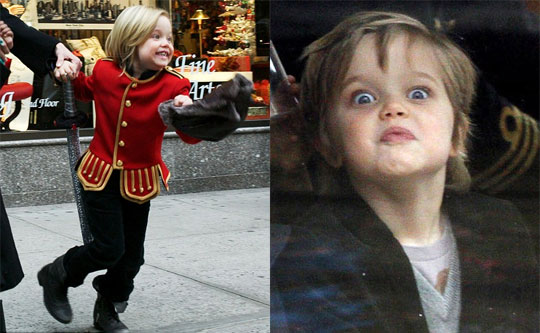 I know that time is flying by quicker and quicker each year (why does it do that?!) but how on earth can Shiloh Jolie-Pitt be six?  Let alone the eldest adopted child, Maddox, being already!
Well she is six years old now and it's going to be interesting to see how she changes over the next six years.  Being TOTALLY different from the girly-girly Suri Cruise, of similar age, Shiloh is much more into dressing up like a soldier, wearing jeans and t-shirts, short haircuts and generally being more of a tom-boy.
I had a few friends like that when I was little and now they are some of the most pretty-fru-fru girls one the planet, so I wonder whether Shiloh will go the same way or whether she'll shun girly glamourous ways forever.
Either way, I LOVE that she's allowed the freedom to wear what she wants, when she wants and have her hair cut how she wants, without a thought for what the press or anyone else will have to say about it.
That's what childhood is all about, let's face it the doing what you want, when you want opportunities are few and far between as you get older.
Ohhhh to be six-years-old again without a care in the world hey!