Celebaby: Royal Wedding Invasion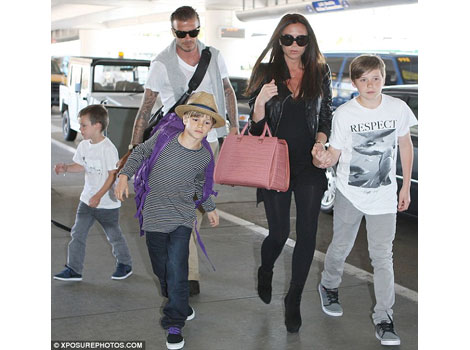 There isn't much celeb' baby news around today - the world has gone stark raving Royal Wedding MAD!
I'm going into hibernation tomorrow - I'll be spending the day catching up on the TV series Bones (I came late to that particular party and am only on Season 3, Season 6 is recording on Sky to watch when I've caught up!) and poking anyone who mentions the Royal Wedding to me in the eyes *grin*
The Beckham clan have flown into the country in readiness for tomorrow, I didn't know they were close to William or Kate but apparently David and William became close after they worked on the 2018 World Cup bid.
David is very excited about attending the Royal bash and has been given special permission by his US football team, LA Galaxy, to attend (how very nice of them) but Victoria is said to be in a bit of a panic about what to wear, good job the kids aren't invited too otherwise she'd have to dress them too.  Mind you, boys have it easy when it comes to formal wedding wear don't they.
I know she has the full force of her celebrity status behind her in sourcing designer dresses, but being preggars is a great leveller and it doesn't matter how great you actually look, if you don't feel it, you don't FEEL it and that's horrible.
She has reportedly already turned down 11 dresses that she's been sent as she doesn't feel any of them flatter her 'fuller' pregnancy figure - ok, so her 'fuller figure' is still tiny compared to the rest of us WITHOUT being preggars, but I must confess to feeling a twinge of sympathy.
If you've ever been out to a function whilst pregnant and not feeling happy with your outfit, you'll know it's not a nice feeling - at least there weren't millions of people watching the entire event and you weren't going to be snapped by the papparazzi and plastered all over the national papers.
Right - I'm all royalled out now.  Brace yourselves for the never-ending 'is Kate pregnant already?' speculation that will arise every time she even dares to put her hand near her stomach *groan*