Celebaby: Prada, Peace and Pigeons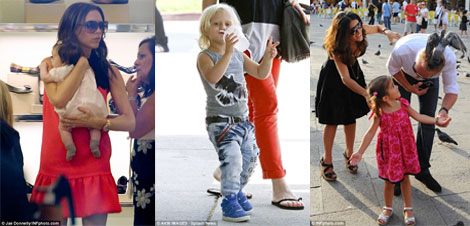 What can I say?
The world of celebrity parents, babies and kids has been a bit boring of late; there hasn't been a good bitch mummy fight - like the spat between Denise Van Outen and Natalie Cassidy of last year - in ages.
Controversy extends as far as...well, as far as one of Gwen Stefanni's sons having his mowhawk dyed blue during the school holidays.
So here are a few bits and pieces rather than anything juicy.
Harper Loves Prada
According to Victoria Beckham, her daughter Harper loved her trip to the Prada shop in New York yesterday that it was, and I quote, "...as if she was saying, "Mummy I'm home!""

Oh please, she's two months old; she couldn't care less whether she wears Prada or Primark!
She also told how she hasn't been away from her daughter since she was born,"I can't leave her alone for a minute, I haven't been without her since she was born nine weeks ago, she's too wonderful to leave."
I hope the boys are happy being doted on by just dad - I don't remember Mrs B being as gushy about them when they were born.
Peace Papps!
Talking of Gwen's boys - Zuma Kingston made his mum laugh when he hammed it up and stuck a few poses for the trailing paparazzi; he's such a little dude.
Mother and son were out mooching around, had 'done' lunch and were making their way back to the car when they were spotted. Rather than look moody, scowl or shy away from the camera-welding 'tog, Zuma threw a peace sign at him (or her, I suppose - there really aren't that many female paparazzos though!); like I said, he's a little dude!
Don't Feed The Pigeons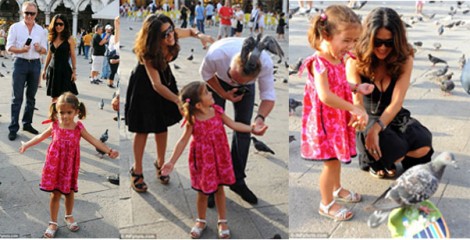 I loved these pictures of Salma Hayek's daughter, Valentina Pinault, feeding the pigeons in St Mark's Square, Venice.
She looks super cute and was clearly found it hilarious when a pigeon almost landed on her father's head.  I can't decide whether or not she's squealing with delight helping to feed the pigeons, or if she's screaming in that I-like-it-but-I'm-half-terrifed-too kind of way.
Either way, it's lovely to see a young celebrity child with her flat age-appropriate shoes firmly on the ground.