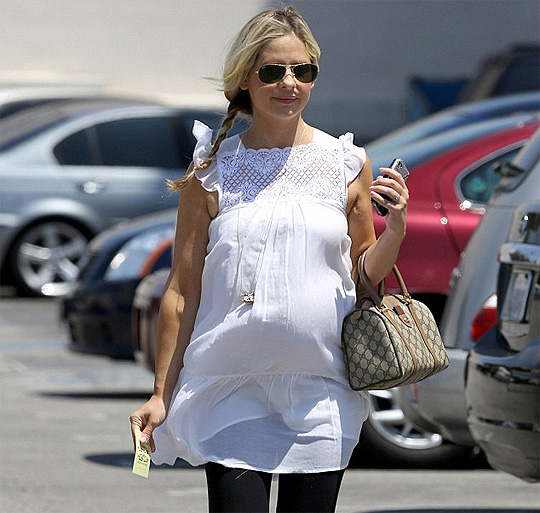 There's no one big Celebaby story to sink our collective teeth into, but quite a few odds and ends.
Willow, young daughter of Pink and her hubby, Carey Hart, has been snapped taking her first steps - it's always such an amazing 'one giant step' moment for parents, then you discover just how fast your young toddler can move and realise that your reactions need to step up a gear!
Sarah Michelle Gellar and Freddie Prinze, Jr are one of those celebrity couples who seem to keep themselves pretty much under the radar.  I don't remember ever reading any sort of scandal about them, no reports or secret pictures of secret love affairs, nothing; they really do appear to live a normal family life whilst having celebrity jobs.
They started going out together in 2000, got married in 2002 and had their first child together - a little girly, Charlotte - two years ago.  Sarah is pregnant again and announced recently that this new addition is a boy.  I wonder what they'll call him?  I hope it won't be Freddy Prinze, Jr Jr, although I rather doubt it.
The race is on between the wives of Gary Barlow and Robbie Williams as to which one is going to have the next 'Take That' baby - both of them are due within the next few weeks.
It amuses me, mildly, when people take FOREVER to choose a name for their baby once they've arrived.  I know it's an important decision to make but it's not as if there hasn't been about 36 weeks beforehand to think about it.
Alex Reid and Chantelle Houghton's little girl arrived late June and it took them five weeks to decide what to call her.  They were cutting it a bit fine by musing for 35 days as births in England and Wales have to be registered within 42 days, and the name they finally decided on...?  Dolly - enough said!