I've occasionally wondered what I'd be like if I was a celeb' parent - would I adopt the casual approach and just dress down to go out, championing the cause and heading up the 'going out without makeup on' brigade (ok, maybe a smidge of mascara and lip gloss perhaps)?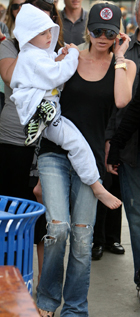 I don't think I'd have the stamina, or the inclination to be honest, to do a Mrs Beckham and be very rarely seen out and about in anything other than ridiculously high-heels and the latest extortionately priced outfit, even when just popping down the road to help out serving school dinners at lunch time at her boys' school.  OH yes!  Haven't you heard?  This the latest in the 'I'm a normal mum' campaign (I wonder if she has to don a standard issue Health and Safety pinny and hairnet...?) speaking to US Glamour magazine recently the down-to-earth Mrs B said,
"If I'm not working, I go to the school and help serve lunches to the children. They just love that. It's like, 'Oh there's Mummy serving me!'"
Is it wrong to want to see pictures of this...? Although, having said all that there has been a recent spat of photos of her dressed DOWN! Personally, I think she looks better in a pair of scruffy jeans and a little vest top.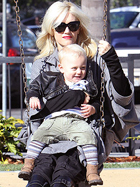 Maybe I'd be like Gwen Stefanni, papped here with Zuma Nesta Rock Rossdale (18 months old) and go and play on the swings looking nothing less than perfectly coiffured and glam' but casual at the same time?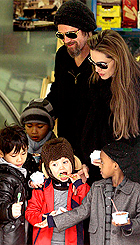 Or perhaps I'd just mooch around and take the kids for ice cream a'la the Brangelina bunch who were all snapped out for ice-cream; looking less than movie-star-smooth there Brad!
One thing is for sure the most enduring of item in the celebrity parents wardrobe is that of the gargantuan sunglasses.  If I grabbed a pair from the £7 faux-bling range in Tesco and donned a silly hat and pouted a bit, d'ya reckon I'd feel a bit like a celeb for the day...?
I can't say I blame them though, would you fancy being papped-and-splashed all over the media when you're looking less than your red carpet best?  No, nor me...thank goodness for anonymity without needing the dark glasses that's all I can say!