Celebaby: For A Minunte I Thought It Was All Going To Kick Off!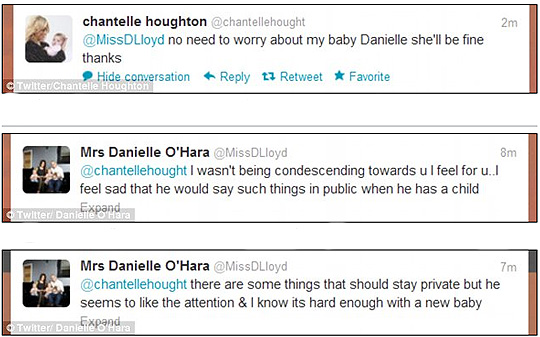 For a minute, I thought it was all going to kick off between football WAG Danielle O'Hara and Chantelle!  It had all the potential of the (I must confess, mildly entertaining) Twitter spat between Denise Van Outen and 'Sonia' of Eastenders fame (you know, for the time being, her real name escapes me!!!).
So the whole Alex/Chantelle epic relationship failure is still playing out in the virtual and printed pages of the media: Chantelle's coming out on top at the moment - even though no one can really take her claims not to have known the true extent of Alex's strange sexual penchants; the rest of the country did, how can it all have passed her by?!
And as for Alex...well, I'm sure you have your own opinions about him that won't be too dissimilar to mine; I won't write them here though, I don't fancy being on the receiving end of a law suit any time ever.
Anyway, Danielle waded in and added her two pence worth on Twitter, posting: "I just worry for the poor baby what will she think when she grows up its not right."
Chantelle, responded with: "@MissDLloyd No need to worry about my baby Danielle she'll be fine thanks."
It had explosive potential and then Danielle rapidly backtracked, by saying: "@chantellehought I wasn't trying to be condescending towards u. I feel for u.. I feel sad that he would say such things in public when he has a child."
And carried on with: "There are some things that should stay private but he seems to like the attention & I know its hard enough with a new baby."
Then shortly after, Danielle deleted her tweets altogether, the Twitter storm clouds passed over and the metaphorical sunshine came out again.
Oh well, we'll just have to wait a while longer for a good row between celeb' parents - even Katie Price has been offering comfort to Chantelle!  Honestly, what is the z-list celebrity world coming to?!!!