Celebaby: Matt Banahan Recreates Athena Poster
Just indulge me for a moment.
I'm a HUGE rugby fan, a rabid supporter of two Northern and Southern hemisphere teams apiece and am bored of talking about various celebrity mums and mums-to-be so I'm going to talk about a man who plays rugby instead - well there has to be SOME perks to the job.
Matt Banahan is 24 and plays rugby for Bath and England; he's a rather intimidating 6ft 7 and you really wouldn't argue with him if you were holding the ball and he came running at you at full speed.
Now, girls, do you remember THAT Athena poster?  You know, the one with the topless dude wearing jeans who was gazing adoringly at a newborn baby?
I do! Here's a little reminder for you (or a first glimpse if you're a bit younger than me)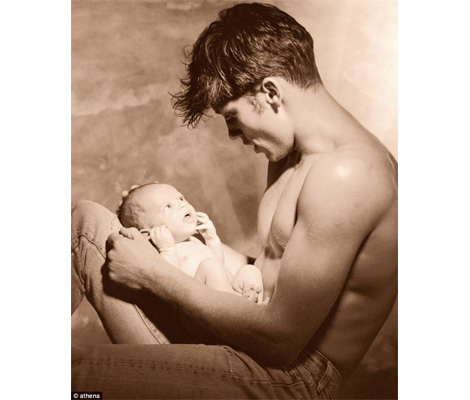 If you were a young teenager in 1986, like I was, then this poster was probably on your wall and would set your heart racing every morning.
Well, the lovely Matt Banahan (I'm not a Bath supporter by the way) has a newborn son and has had his own version of this poster shot; altogether now 'aaahhhhhh!'
Joseph Matthew was born three weeks ago when Matt's wife, Becky, was rushed to hospital and had to have an emergency c-section; whatever the reason for such a rushed entrance into the world, young Joseph Matthew doesn't look any the worse for wear for it, he's a little smasher!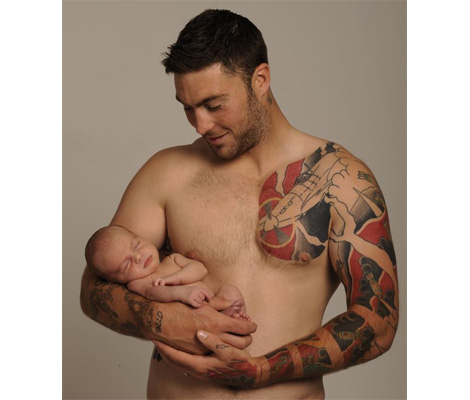 By the way, just in case you were wondering what happened to the baby in the original photo - he's 24 now and went on to study law.  Imagine being able to say you were the baby in THAT Athena poster!