There should be a bunch of bouncing celebrity babies arriving before too long; lots of celeb' women are currently sporting baby bumps: Lily Allen, Sophie Dahl, Abbie Clancy, Penny Lancaster, Mrs John Travolta, Mrs Orlando Bloom - the list goes on and on!
Sophie Dahl

The very tall Sophie Dahl has given up modelling and is now a TV chef! Did you know that?  The last I read, she was a model turned writer - who knows.
What I want to know is, what it's like having to bend down to kiss your husband and probably not feeling like you can wear high heels when you're out with him.
Actually I don't want to know, it's men taller than me all the way I'm afraid. Mind you, if you're six feet tall yourself I suppose it does narrow down your options a bit.
But I digress, the lovely Sophie was spotted out with Jamie this week, they were on their way to a birthday party thrown for a Russian business man by Elton John.
Penny Lancaster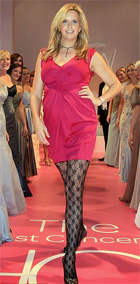 Penny Lancaster - another VERY tall women with a short husband - was strutting her stuff on a catwalk at the Dorchester Hotel in London last night.
She was lending her support and garnering publicity for the Breast Cancer Care charity fashion show - her young sister-in-law was diagnosed with the disease shortly after Penny and Rod discovered they were expecting their second child, due in February.
Even when preggars Penny looks fantastic - her legs really do go on forever!! I wish I had legs like that *sigh*...she can keep the short husband though.