Celebaby: Kim Kardashian Shows Off Her Post-Baby Body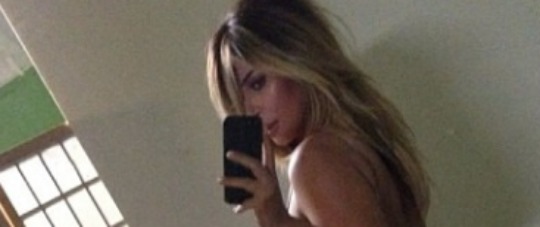 Wowza, Kim Kardashian clearly has no qualms about showing off her post-baby body.
The new mum posed in a barely-there white bikini and posted the snap on her Twitter and Instagram pages. Suffice it to say it's not entirely suitable for family viewing, hence the, um, discreetly cropped version above.
Earlier in the week one of Kim's followers on Twitter asked her the secret of 'losing so much weight' and Kim responded by tweeting:
"I've actually been doing the Atkins diet & luv it"
E Online reports that Kim has lost 25lbs on the diet:
"Whether she's dining with Baby North, making appearances with Kanye West, showing off her beautiful blond hair color, working out at the gym or dressing her post-baby body in gorgeous designer clothes, her latest outings have attracted a lot of attention from the public eye. And let's be honest, Kim is looking good!"
Bleurgh. Can you imagine the horror of trying to cope with a demanding newborn baby without the help of carbs a plenty?
Still, kudos to Kim for finding her body confidence.