Celebaby: Jimmy Saville Might Have Been My Dad!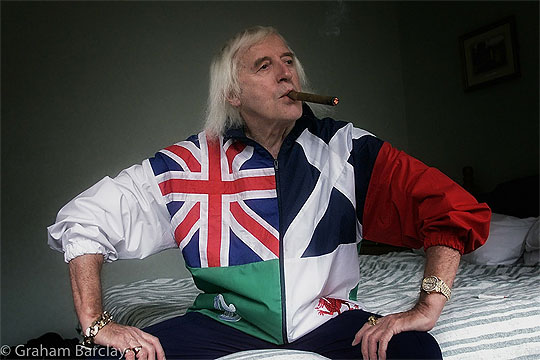 Not MY dad, you'd have know about that by now if he was and I rather doubt I'd be writing for PlayPennies if he was!
No, no - a lady whose mum, she alleges, had a two-week fling with Sir Jim'll which resulted in her birth, has submitted a claim on his £7.8 million estate - well you would, wouldn't you.
DNA tests are underway, using a strand of hair belonging to 'Dear Jim, please will you fix it for me' that was found in his flat; seriously, you couldn't make this stuff up!
Jimmy Saville - childhood icon of my generation and general all-round massive charity fundraising hero - died last year.  He left £600,000 in a trust fund to be shared between six of his closest friends and relatives, one being his 50-year-old niece who is also his next of kin; £1,000 for 18 other people and the rest, after all the usual death admin' and costs, was to go to charity.
Jimmy's niece has had this to say on the whole affair (no pun intended!)...
"We have been told she has put in a claim on my Uncle Jimmy's estate and everything is on hold until it's ­resolved. It's in the hands of the executors of the estate and they are dealing with it."  Very dignified, I thought.
I know it's not the usual sort of Celebaby story (I could have brought you the pictures and breaking news of VB pushing Harper in a pushchair, or the fact that Myleen Klass' husband told her he didn't want to married to her anymore on her birthday (NICE!)) but I'm rather fascinated by this story and wonder if we'll ever get to hear the results.