Celebaby: Halle Berry Drama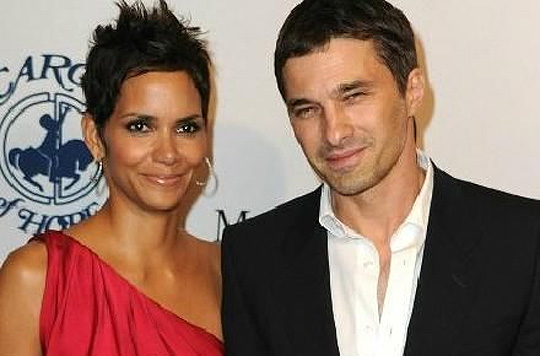 I was talking with my husband just now about the ongoing drama and, quite frankly, downright nastiness between Halle Berry and Gabriel Aubry - the father of her daughter Nahla.
Their bitter custody battle and petty rows have been gracing the pages of the tabloids, in print and online, for years - it got to the stage where it was so boring I had to stop writing about it in Celebaby for fear of falling asleep whilst typing!
Since then, Halle Berry has shacked up with, and got engaged to, Kylie Minogue's ex-boyfriend, Oliver Martinez.  Ten years ago, when he was with Kylie, he seemed like quite a nice chap; ten years on and he's not looking so hot any more and certainly doesn't seem to the Mr Nice Guy plenty of people thought he was...if everything 'Gabe' has to say about the HUGE punch up that happened between them at the weekend is to be believed.
It goes a little bit like this (I'm already getting bored again):  Oliver, Halle and Gabe were at school, watching Nahla perform in her Thanksgiving play.  Martinez apparently whispered inflammatory things to Aubry about how he wished he could beat him up right there and then (very grown-up, hey!).
The following day, Gabriel dropped Nahla home; Oliver answered the door - a task usually performed by a go-between nanny (again, very grown-up) - and said he wanted to talk to him.
What ensued was nothing short of full-blown violence - the pictures are all over the media today - with Martinez, allegedly, threatening to kill Aubry, saying, "We called the cops. You're going to tell them that you're the one who attacked me, or I'm going to kill you," and bemoaning the fact the custody battle has cost $3 million.
So now there are two temporary restraining orders in place - one for each side and Gabriel faces deportation back to Canada and the loss of joint custody of Nahla.
The most important thing in all these rows, arguments and, now, full-scale beatings seems to have been forgotten, again: Nahla! This poor little girly has been stuck in the middle of the war between her parents since 2010, and now she has a crazy step-father to be throwing his weight around too.
She's the one I feel sorry for and is the one who needs protecting, not the grown-ups with their tit-for-tat restraining orders, and is clearly the view of the Child Protection Services who have now got involved.
It's going to be interesting to see who's telling the truth in this instance: Gabriel Aubry is hoping that CCTV footage will back up his version of events.