Celebaby: From One Extreme To The Other
There are celebrity marriages and families that work and there are those that don't.  Jamie and Jools Oliver (I love that, 'Jamie 'n' Jools) celebrated their 10th wedding anniversary this week and Peter Andre would like to have Jordan wiped from his memory - wouldn't we all Pete, wouldn't we all!!
Happy Tin Wedding Anniversary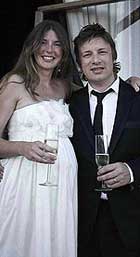 I promise I haven't mispelt 10 with an 'i'.  In the whole ruby, golden and diamond wedding anniversary thing (is there a name for these?) a tenth wedding anniversary is tin!
Doesn't sound very glam' does it, but rather fitting for one of the nation's most treasured celebrity chefs - I wonder how many roasting tins, baking tins and muffin tins Jamie and Jools were given as presents to commemorate this marriage milestone?
They threw a big bash over the weekend, looked happy as ever and were dressed in psuedo-wedding gear . Mr and Mrs Oliver already have three cute little girls and Jools is currently preggars with the next addition to the clan.
I wonder if Jamie will end up outnumbered five to one, or whether they'll have a little boy to redress the balance just a little bit?
Congrats to them both and we wish them many more happy years together!
Eternal Sunshine of the Spotless Jordan-Free Mind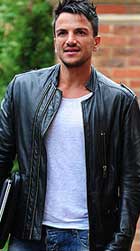 That's what Peter Andre would like to have and if you believe the latest news coming from the Jordan-Reid camp out of Thailand, where a disasterous honeymoon-from-hell is currently being taken, the current 'Mr Jordan' might think Pete's on to a good idea!
If you've never seen the movie 'Eternal Sunshine of the Spotless Mind' then you wont' have a CLUE what I'm talking about! Basically, people would have events and people they'd rather forget erased from their minds - hence the spotless mind bit.  OHHHH if only! I can think of a few people I'd like to have removed from my mind.
But on a serious note (unusual for Celebaby I know!)  if hypnotherapy can help people stop smoking, lose weight (I read about a woman who was hypnotised to believe that she had a gastric band it's working wonders! Amazing...) and get over phobias then why not use it to help get over heartbreak or resentment?
I'm on the fence.  If someone is REALLY struggling to move on then maybe there's merit in it, but if we started to pop off to the local hypnotherapist every five minutes to erase this and that would we start to lose ourselves or our ability to grow stronger through dealing with tough situations?
I think we should call it a day today on that philisophical note; if you haven't seen Eternal Sunshine of the Spotless Mind, by the way, and are at a lose end this weekend then see if you can get your hands on a copy - it's worth a watch.