Celebaby: Colour, Socks And Diet Spice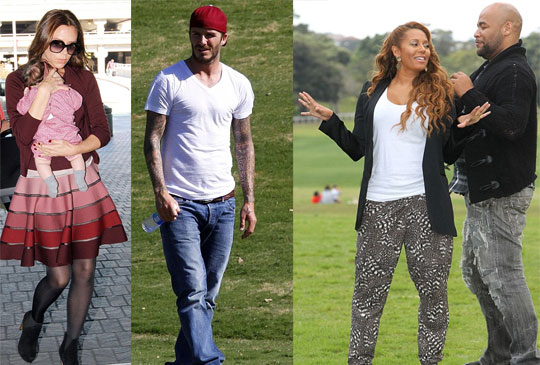 There are various snippets of Celebaby stuff floating around at the moment - none of it's very exciting, when did all the celeb' parents start being so nice?  There hasn't been a good spat between any of them for ages!
There has been some shocking news this week already though...
Victoria Plum
Brace yourselves! You might just want to sit down before you read on because it's proper headline news!
Victoria Beckham was photographed at Los Angeles Airport - with Harper, of course, that poor child is never going to be let out of her sight I can tell - wearing COLOUR!!
Yep, Always-Dressed-In-Black-Spice was wearing a cardigan, skirt and top in various plum, pink and red colours.
She didn't abandon black completely as she wore black tights and black shoes, she didn't smile either; one step at a time though, we can't expect everything at once.
Golden Socks
The second shock revelation of the week also involves the Beckhams and has had the curious side effect of seeing the sale of Marks and Spencer socks go through the roof - I'm telling you, the world has gone mad.
Ever since Victoria was quoted as saying, "David gets annoyed when I spend more on Harper's socks than his...of course I do, he's happy with M&S!" Marks and Sparks have reported that sales of their 'classic men's sock' has risen by a third.
Mel B - Jenny Craig
A few years ago Mel B released a fitness DVD, showing how she went from fat to fit.
Having been-there-done-that already she's obviously decided to find another high profile, and public, way to shift the, at least, 15kgs of extra weight she's carrying around as a result of her latest pregnancy.
She's become the latest celebrity face of Jenny Craig.
If you've not seen one of their adverts on TV, you'll be forgiven for saying Jenny WHO?!
I don't know much about it - I prefer to take responsibility for the exercise I do and food I shove in my mouth to keep me looking the way I do - but basically: you hand over a ton of cash every month and you get not much food delivered to you because obviously you're incapable of sorting your diet out for yourself.