Celebaby: Celebrity Nappies Anyone?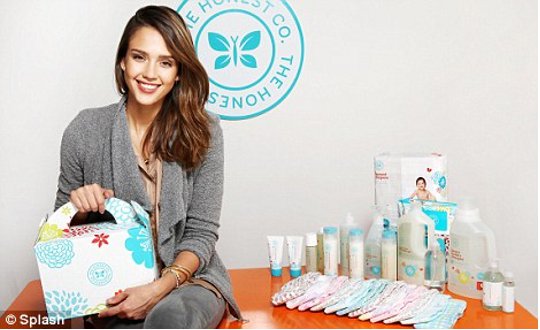 Celebrity nappies - I suppose it had to happen sooner or later; a range of baby products 'produced' by a celeb'.
Jessica Alba - The Honest Co
So, The Honest Co is the name Jessica Alba (Hollywood 'star')  has chosen for her new range of eco-friendly baby and household 'things', such as cleaning products, baby skin care and nappies.
If you're wondering whether it all comes with a wallet-friendly price tag (I know you are!) then it would appear so, or at least that's what Jessica will have us believe.
This is what she had to say on the subject when she spoke to the New York Daily News.
"I'm like, just because it's eco why does it have to be brown, beige, or have a green leaf on it?" So everything is brightly coloured, including the nappies.  On the subject of cost...
"'I would talk to my brother - he has two kids - and I talk to my sister-in-law and my cousins, they're like, "Well, we can't afford that." Then I was like, "How in the world is a safer and healthier product only available to those in a higher tax bracket?" That was my big a-ha moment!"
Well isn't that, like, awesome (said in my best whiny American accent) - as yet there's no news on whether The Honest Co will be making a journey across the Pond to a supermarket near you.