Celebaby: Mel Sykes Secret Sister?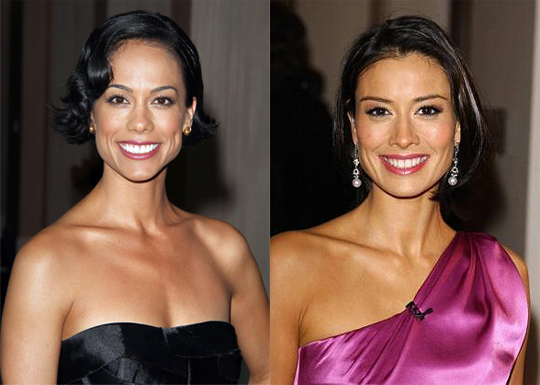 I don't watch much TV, so it's actually not surprising I've never heard of today's celeb' mums - you might have though: Daya Vaidya and Guiliana Rancic.
Daya is an actress who has guest starred in NCIS, Dexter and Two and a Half Men (I have, at least, heard of those programmes) and she was a regular cast member in the TV series Unforgettable (I haven't heard of that).
Well, she's just had identical twin boys - Jai Blue and Dev Eshaan - but the reason she caught my eye is that she bears an uncanny resemblance to Melanie Sykes!
What do you think?  I've put the pair of them together in the picture above -  I even went to Google to look up other pictures of her and they could be sisters at the very least!
The other baby news of the day is that Guiliana Rancic is expecting her first child via surrogate.
Guiliana presents E!News (I've watched the sum total of about two minutes of that, before switching over to BBC News24 - that's my sort of news channel) and is here in London to cover the Olympics (a bit hard-hitting and serious for E!News I would have thought), she's glued to her phone at the moment as the surrogate mum is in the States and due to give birth at any moment!
Before anyone starts tutting about celebrity women being too busy, or worrying about their figures too much, to carry their own children, Guiliana is a breast cancer survivor and decided to have her eggs stored when she found out.
Fingers crossed all is well with the baby and that he or she stays put long enough for mum to make it home for the birth!