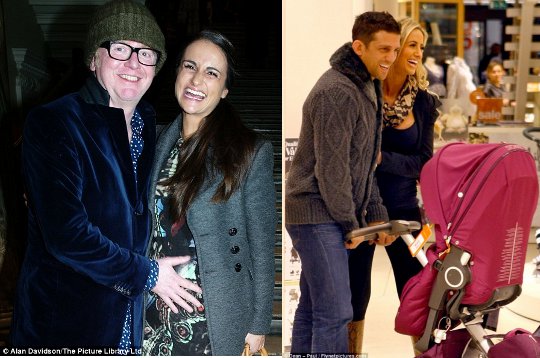 There have been a few baby bumps out and about this week - the only one I paid more than a fleeting interest in is Jennifer Garner's bump, I think she's lovely (Jennifer, not the bump - I haven't taken to referring to her bump as 'she', the moment I do that is the time I quit!) and will tell about her on Tuesday.
Chris and Natasha Evans
Chris Evans and his second wife are expecting their second baby together and her bump was 'unveiled' at a movie premiere, "just days after," the press reported, "that Billie Piper showed off her massive baby bump."
The press make me laugh!  What on earth has that got to do with anything - NOTHING!  What do they want Chris and Natasha to do, stay in?  "Ooooh we'd better not go out for at least a couple of weeks luv, Billie went out with her bump."
Can you imagine, with a couple of days to go before those two weeks was up, Billie went out again, how very inconsiderate,  "DAMMIT!  We're going to have to stay in again, sorry darling - we'll have to order in pizza again for dinner."
Alex Reid and Chantelle Houghton
WOW I feel 'unclean' just writing their names - I don't do well with these two I'm afraid, I'm going to have scrub my hands with bleach after this, but baby news is Celebaby news.
They are the latest two celebrities (and I use that word in the loosest of senses) to be spotted shopping in a Mamas & Papas store (it was Ben Foden and his preggars fiancee Una Healey last week).
There's not really much to tell - they looked at prams, they looked at other baby things and Chantelle was wearing the most hideous snakeskin patterned boots - seriously, they are properly UGLY.
I have to say that both Chantelle and Alex look incredibly happy together, I can't help but be scared for their child though - 1) he or she will have those two for parents and b) there are rumours that they're going to be followed around by cameras for two series of their own reality show which will include the baby's arrival.
I can't stand these reality shows, they're just hateful, hateful, HATEFUL and on that note I'm off to get the bleach!