Celebaby: Blood On Their Hands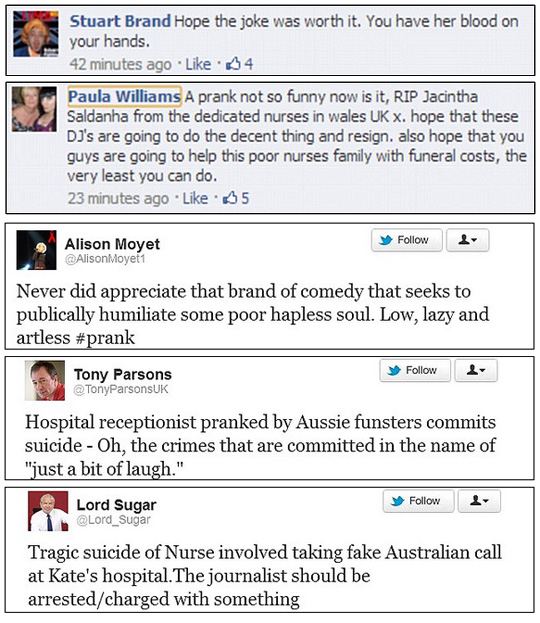 "Blood on their hands!" That's what's being said, by many, of the DJs who made 'that' prank call to the King Edward VII hospital, pretending to be the Queen wanting to speak to the pregnant Duchess of Cambridge, which has resulted in the death of the nurse who answered the phone and put their call through.
I was in the kitchen with my daughter when we heard the news on Radio 4 and we were both absolutely stunned!  We thought the newsreader was going to say, "the nurse who put the prank call through, bla bla bla, has been dismissed, bla bla bla."  
We did NOT expect to hear that she'd been found dead and couldn't quite believe what we were hearing.  The media storm surrounding the whole thing was huge before, it's MASSIVE now and doesn't look like blowing over any time soon.
The Aussie DJs have deleted their Twitter accounts after thousands of people tracked them down to voice their disgust at the tragic turn of events; the radio station's Facebook page was also bombarded by angry comments.
The DJs have been taken off the air for an unknown length of time - some say for good, but Rhys Holleran, the chief executive of Southern Cross Austereo, which owns 2DayFM has refused, so far, to sack them and says:
I spoke to both presenters early this morning, and it's fair to say they are completely shattered. These people aren't machines, they're human beings. What happened is incredibly tragic and we're deeply saddened and we're incredibly affected by that.

I think prank calls as a craft in radio have been going for decades and decades and are not just part of one radio station or network or country. No-one could have reasonably foreseen what ended up being an incredibly tragic day.
There is a row brewing as to whether or not laws have been broken, with regard to airing a recorded conversation when all parties weren't aware they were being recorded - although the radio station lawyers, who listened to the recording before it was aired, believe the law hasn't been broken.
All of this rowing and public anger aside, the fact remains that two teenage children are now without their mother, a husband without his wife and a mother and father without their daughter, because she felt that ending her own life was the best course of action.
I know there are those who immediately condemn suicide as the ultimate selfish act, but I don't believe such an extreme course of action can be packaged up and labelled so simply.
I cannot imagine anything ever feeling so bad to truly feel death was my best and only solution to the problem, and I can't begin to comprehend the anguish of those who do - as far as I'm concerned, they deserve our compassion, not condemnation.
My heart goes out to Jacintha Saldanha and her family.