Celebaby: MORE Baby Bumps!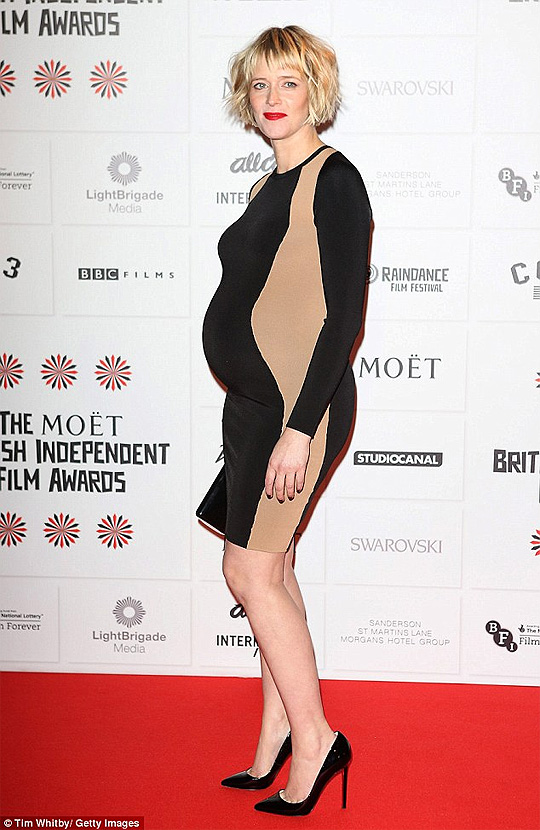 I didn't know Edith Bowman, of Radio 1 fame, was preggars - or if I did, I'd completely forgotten all about her being in the family way - until I saw some pictures of her earlier this week.
She was at the British Independent Film Awards last Sunday night and was snapped wearing a very tight dress that has those illusion panels running down the side - I can't decide if they just look a bit odd, but Edith looked rather fab in hers with her big six-month bump on full display.
The lady third of Lady Antebellum, Hillary Scott, has announced that she and her hubby, Chris Tyrell, are expecting their first baby. Posting on her Twitter account, Hillary said:
Chris & I are excited to announce that our Christmas gift has arrived a little early this year! We are having a BABY! We feel so blessed!!!
Hillary and Chris got married in January 2011 and Hillary says: "Everything is brighter. Everything has a deeper meaning. He makes me feel more comfortable in my own skin."  This is good news, Hillary, as you're about to get somewhat uncomfortable in your own skin - congrats to you both!
Jenny Frost, of Atomic Kitten 'fame' (I use the term relatively loosely) is preggars with non-identical twin girls who are due in February <------ another baby bump that's slipped under the radar, either that or I'm properly losing my short term memory!
She's spoken out about how she spent the entire summer laid up with hideous morning sickness: 
I had to go to the doctor to try and get some medication to keep my food down.  When I was really sick, I couldn't eat anything but salt and vinegar Squares crisps.  I'm knackered... I've had my head stuck down the loo for most of this pregnancy - the morning sickness was debilitating
Salt and vinegar Squares crisps...weird!  I could understand if it were the plain ones - they are YUM - but S&V, YUK!
Mind you, when I wasn't feeling so great during the early months of carrying my youngest son, pilchards in tomato sauce toasted on a muffin  kept the sick feeling at bay for me...so I suppose I can't be remotely judgmental, that taste sensation makes S&V squares sound positively tame.
Tell us about your pregnancy food taste sensations!