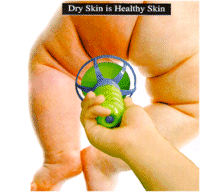 Not as in a fan OF babies bottoms, that would just be a bit weird and maybe ever so slightly wrong, but a baby bottom fan FOR little bums!
Just when I thought we might have seen it all, I came across this little gadget and have been giggling away at the madness of it ever since.
No more having to get hands on, oh no! No more having to dry bottoms with towels if you have a baby bottom fan to hand!
It's amazing!
I particularly like this statement...
Perfume Dispensing Function !

Anti-microbial fragrance(such as lavender) protects your baby from skin ailments and it also sooths your baby from any agony.
Contains soothing essences of lavender, sweet smells to bring sweet dreams.
It is very good for a peaceful transition from little dynamo to sleeping angel.
HA!!!  Who'd have known the solution to getting your baby to sleep was to spray lavendar anti-bug stuff on their bottoms with a foam-bladed battery powered fan!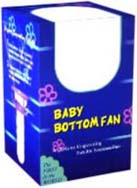 Oh but wait! There's MORE! You can even have your company logo printed on it if you like - could it GET any better?!
I can see it now - women across the land going on maternity leave being presented with a corporate branded bottom fan from their employer!  Could any expectant mum wish for anything more?!
I'll leave you to ponder on that whilst I wipe all that sarcasm off my keyboard...I wonder if I could use a bottom fan to dry it with afterwards....?