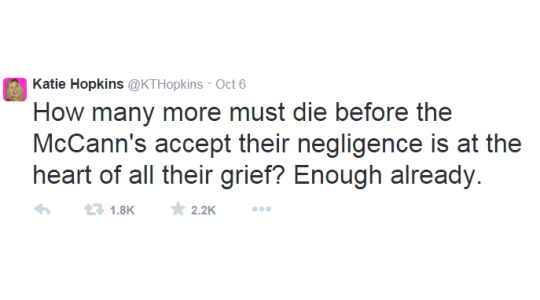 Katie Hopkins has done it again, and this time she's sunk to a new low.
Yahoo! Celebrity reports:
The ex-Apprentice rent-a-gob caused a stir on her Twitter page last night when she commented on the Madeline McCann case following the suicide of Brenda Leyland, who had been targeting Madeline's parents, accusing them of being behind the four-year-old's disappearance in 2007.

Katie wrote to her 224,000 followers: "How many more must die before the McCann's accept their negligence is at the heart of all their grief? Enough already."

Fellow TV personality Jennie Bond responded to say: "I cannot believe you've just written that", to which Katie added: "Believe it - and get over yourself. Plenty think it. Imagine if I left my children alone and went out. Forgiveness?" alluding to the fact that Madeline went missing after being left alone in the family's hotel room whilst they were holidaying in Portugal.
Unsurprisingly, there's been something of a backlash against Katie on Twitter. My favourite of those responses which can be repeated is: "If Monday was a person, it would be Piers Morgan or Katie Hopkins." Quite.
But the Playpennies team is divided on this, with some of us thinking it's high time someone took Katie down a peg or two, while the rest of us really couldn't care less about what she thinks or says.
What's your view?