Celebaby: Tori Spelling V Anne Geddes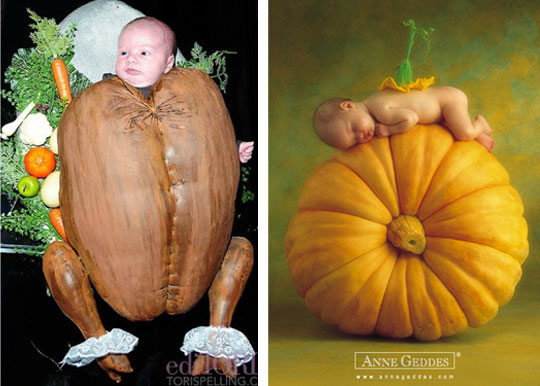 All of a sudden it's a bit boring in Celebaby land - we could do with a good scrap a'la Denise Van Outen and Natalie Cassidy to spice things up!  However, if we were to be giving out prizes for THE worst baby picture of the year then we could already award it to Tori Spelling because, trust me, it's going to take some beating!
Tori Spelling v Anne Geddes
Even if you don't know who Anne Geddes is you're bound to have seen some of her STUNNING images; as a photographer, I LOVE HER! It would appear that Tori Spelling has suffered from some Anne Geddes delusions of grandeur and failed on an EPIC scale!
It's Thanksgiving in the States today (Happy Thanksgiving if you happen to be American and are celebrating today!) and, despite having had many US friends try to explain it all to me, I still don't get it.  Or rather, I never remember what it's all about, it just seems odd to do the whole Christmas dinner thing one month before Christmas Eve when you get to do it all over again the next day!
Tori Spelling had a little girl a few weeks back - I don't think I told you, but let's face it...Tori WHO? - anyway, she had a baby girl a few weeks ago and has tweeted pictures of poor little Hatti dressed up as a Thanksgiving turkey on a plate; seriously, I kid you not!
That poor child, what on earth was Tori thinking!  Anne Geddes is a one-off; a genius and would have created something beautiful, Tori just created something CREEPY!
Other Bits & Pieces
Let's see...what else can I dredge up from the depths of celeb' voyuerism for you?
Well, Benjamin Travolta had his first birthday yesterday! Can you believe he's one year old already!? That time has really flown by, he'll be turning five before we know it.
The Cruise family have been spotted out and about doing family things together - I know, fancy any couple with kids doing that - they were photographed ice skating on a rink somewhere in Pittsburgh.
I have to say, Suri Cruise is the absolute spitting image of her mother! She's a proper little mini-me and going to be jaw-droppingly stunning when she's older - I wonder what she'll do?
Go into acting like her parents? Modelling perhaps, also like her mum or maybe with her love for clothes and fashion she'll do a Victoria Beckham and set up her own fashion house.
Other than Pink going out and about with Willow and more comment on Harper Beckham's ever-increasing, there's nothing exciting going on in celebrity land at all; no breaking news, nothing earth shattering, nothing of any value whatsoever.
OH, there is one more thing - that crazy girl who's saying that Justin Bieber is the father of her child? She's now demanding he takes another paternity test whilst she's actually present in the room.
HA, like that's going to happen - I wonder if she'd ask for his autograph at the same time and declare undying love for him and this was the only way she could get him to notice her.   It sounds to me that what she really needs is some medical help to bring her back to reality!