Celebaby: Theodora Rose Williams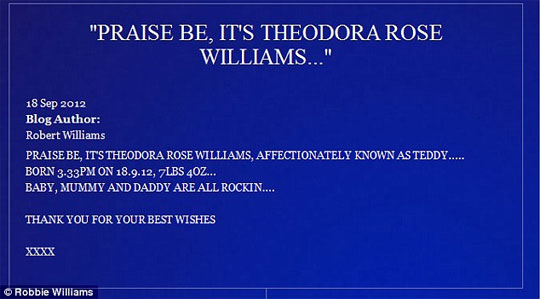 Theodora Rose Williams is the name that's been given to Robbie Williams' and Ayda Field daughter - what do we think of it?
Robbie told the media a while ago that they'd chosen a name, that it was sturdy and traditional, a bit different but not wild and wacky, "We do have a name but we're not going to get it out in case it gets tweeted.  And as a celebrity we're supposed to call them Aubergine or something like that aren't we?  'I do have a sort of celebrity name but it's not Apple-esque. It's a very solid, old-school name."
I'm not sure about you, but I've not come across many Theodoras in my time - her nickname is going to be Teddy, now I think that's cute but then I would as Edward, my youngest son, is most often called Bear.
It was also interesting to read Robbie's opinion of schools in LA and the calibre of their pupils - it was quite a rant and won't make/keep him very popular State side!
"I don't want to educate our baby in LA because I would much prefer her to have English sensibilities.  They are idiots in L.A. schools. They are ****ing idiots.  They are a breed of idiots that only exist in Los Angeles and she would be surrounded by them. It's not like one or two either.  It's not like the Big Brother house, where you pick the worst ones. 
I think kids there have a massive sense of entitlement, are dull and dumb. It means me coming back to the UK for good but I can live with that. It's worth being pestered for her to have a good school.  I want the baby to have an English passport, we're still figuring out exactly whereabouts the baby is going to be brought up.
I had a conversation with the wife last night about where we're going to end up but we still don't know."
I told you it was quite a rant!  Funny though, I remember Robbie having a similar less-than-favourable opinion of Britain when he left the country to go and hide out in the good old U.S of A!
Still, ranting and tarring an entire section of the American population with the same brush aside - I'm looking forward to seeing the first pictures of young Ms Williams and am glad she's arrived into the world safe and sound.