Celebaby: Should I Stay Or Should I Go?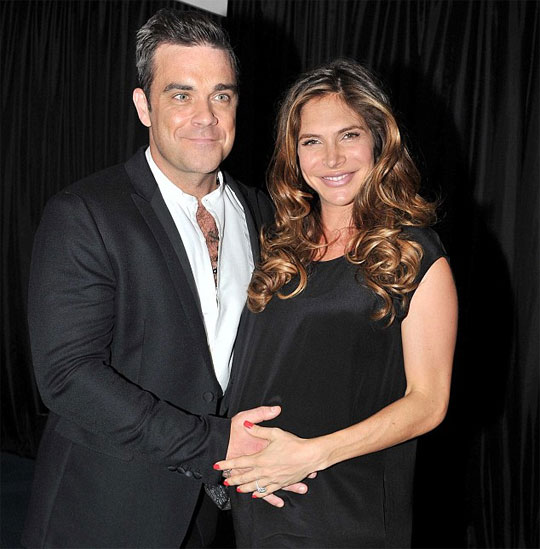 Should I stay or should go?  The title of a song written by The Clash and one that most people of a certain age, or music buffs, (it was released in 1978) will be able to la-la along to.
It's also the question that Robbie Williams posed to an audience of 2,300 in Leeds on Tuesday.  His wife, Ayda Field, is going to have their first baby at any moment and she is, reportedly, rather CROSS that her husband has scheduled four live concerts right at the same time the baby is due to arrive.
Robbie took his phone on stage so that Ayda would be able to contact him if she went into labour - quite how he'd hear it above the noise of a live show I do not know - and said to the audience..
If it rings, do I stay or go?
The audience, apparently, responded with a roaring, "STAY!"  Well, what a lovely, kind and compassionate audience they were!  Very nice, Leeds audience!  You just put yourselves first and not give a second thought to a woman who would like her husband by her side when she has their baby.
I'm also rather unimpressed by Robbie's attitude and I'm hoping he's just playing up to the media a little bit by constantly asking what he should do (because the answer is DROP EVERYTHING AND GET YOURSELF TO THE HOSPITAL TO BE WITH YOUR WIFE!!) and suggesting that he might not.
He was a guest on Chris Evans' Radio 2 show this week and admitted there had been 'words' about the situation...
"I've had a bit of a falling out with the wife.  I've got gigs this week, the baby could come at any minute, the wife has said, "If I go into labour and you've got a gig in say Leeds or Dublin, you've got to cancel it and come home."  I put it to you Chris Evans, I ask you, please tell me what I should do?"
Chris advised Robbie to have a helicopter on stand-by - Chris found himself in the very same situation earlier in the year, he was away for work and had to fly back when his wife went into labour.
And Robbie's response?
"I'm going to pretend. This is what I'm going to tell her there is some helicopter behind the gig in Dublin, but that's expensive, so I'm not really going to do it. I'm going to tell her that's there and then keep my fingers crossed."
Come on Robbie, seriously, get your priorities right OR stop hamming things up for the media, you're just making yourself look silly.