With summer comes sporting events and parties and the opportunites to 'pap' celebrities and their offspring abound - we have a few for you in today's Celebaby.
Spotted!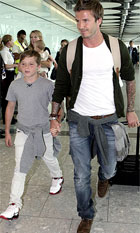 David and Brooklyn Beckham
There must be something in the celebrity water that these kids are being given because they all seem to be growing up overnight! How is Brooklyn Beckham 11 years old already?!
He was spotted coming in to Heathrow with dad, David Beckham,yesterday en route to watch Andy Murray play at Wimbledon and was more than happy to be photographed holding his dad's hand as they walked through Arrivals - I think I would be too if I was 11 years old and had to face the 'Paps'!
The Stefani-Rossdale Gang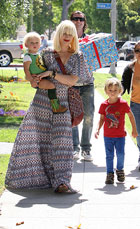 Gwen, Gav, Kingston and Zuma were spotted making their way to a birthday party late last month (well it IS only the 3 July).
Gavin carried the ENORMOUS gift - I wonder what was in it? -  whilst Gwen carried Zuma as young Kingston (4) strolled alongside.
I have to say I really like Gwen's hair down in this photograph, it's much softer than her usual harsh scraped back up-do,  and she looks rather stunning in that dress too - very boho and summer chic.
Denise Van Outen and Betsy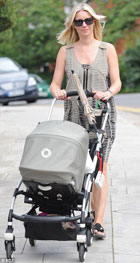 I wonder if you get used to being photographed every time you step out of your front door? I've just gone outside to hang up balloons for my youngest as it's his fourth birthday today and, lucky for me, there wasn't an army of 'togs outside my front gates and photographs of me looking less than glam' aren't going to be appearing in the papers tomorrow!
But if I was DVO then this would most certainly be the case - she was spotted going out for a stoll with Betsy yesterday.
She's quite often spotted out and about pushing the pram and all this regular walking is said to be part of her 'secret' to looking so fab, even during the early months of motherhood - if you've  been there, you'll know exactly how gruelling they can be!
One can only 'hope' she's got some serious bags behind those sunglasses otherwise it's just NOT fair!