Celebaby: Sneak-Peek And Alicia Takes A Tumble
In today's Celebaby we get a first look at Ethan Edward Smith with his parents, Dannii Minogue and Kris Smith, and four-inch heels on stage when you're preggars are not such a good idea for Alicia Keys.
Say AAAHHHH!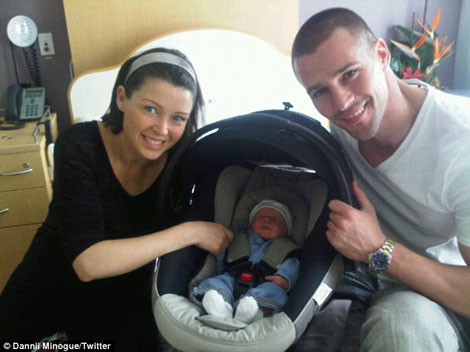 My respect for Dannii Minogue shot through the roof this week; like her sister she's very dignified under the glare of the constant media spotlight and appears to be very unpretentious.
The first pictures of her new son, Ethan Edward, were released yesterday but not by OK! Magazine, not in a 10-page glossy spread shot by Hello but a family snapshot posted on her Twitter page! HURRAH!
Dannii has reportedly turned down offers of around £100,000 for the exclusive rights to the first photos and good for her! The photo is lovely! Dannii looks stunning, and about 10-years-old, with not a scrap of makeup on and baby Ethan is all wrapped up and set to go home.
Even if there are magazine spreads and the usual staged family shots to come, I will always admire the family for not selling-out the first ones.
Stage Tumble for Alicia Keys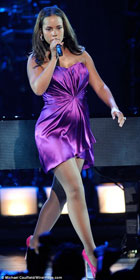 If you've ever been pregnant you'll know that at some point you have to admit defeat and pack the high heels away for a while.
Alicia Keys may just have reached this point as she tumbled off an enormous pair of four-inch heels on stage this week.
She's five months preggars now and there were gasps from the audience when she stumbled backwards and fell over.
The show went on however, and mum and baby are both fine.