Celebaby: Simpson Snooki Scrap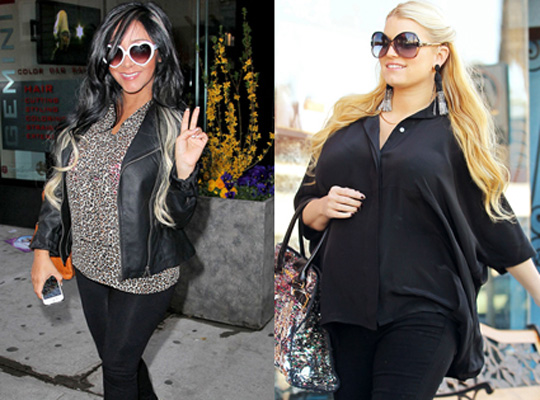 Just when I thought we were going to be in for a good preggars celebrity scrap, it all calms down again!
The long and even longer of Jessica Simpson's pregnancy is causing various comment among the celeb' world - Katy Perry is supposedly 'anxious' for the now overdue by 10 days Jessica and Chelsea Handler (whoever she is) has also questioned why on earth the unborn Miss Simpson hasn't arrived yet.
BUT, things looked as though they might get interesting when 'Snooki' of Jersey Shore 'fame' (you'll have to forgive me if I get these things slightly wrong, I don't 'do' TV like Jersey Shore and have no real clue who this Snooki person is other than she's pregnant and very short) said she'd, and I quote, "DIE if I were her size!" and told how she was avoiding eating anything fattening to make sure she never gets to be either.
So we sat back and waited for a Simpson response, but none came.  Instead, Snooki is now saying that she LOVES Jessica's, and again I quote, "hot ass bump!" and took to Twitter to set the record straight...
"I NEVER dissed Jessica Simpson you weirdo tabloids, get over it with your 'pregnant war' articles, I love the girl and her hot ass bump."
So that's cleared that up then - Jessica's still pregnant, the baby doesn't seem to want to put in an appearance any time soon and Snooki didn't say anything horrible at all *yawn*