Celebaby: Place Your Baby Weight Bets!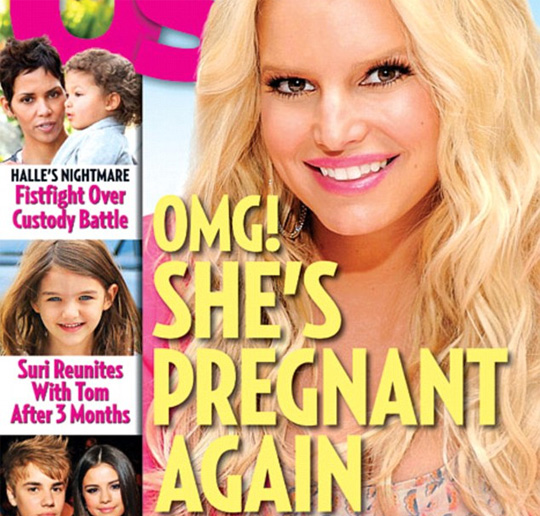 I was in the gym when I heard the news, last night, that Jessica Simpson is already expecting baby number two.  I'll be honest, the first thing that crossed my mind was: what a 'brilliant' way to get out of having to lose more weight on behalf of Weight Watchers.
I wonder if a second pregnancy, as a way of still raking in the bonus payment without hitting the target and maintaining it, was written into the contract?  WOW, I can be so cynical.
Unkind, maybe, but that's what flashed through my mind.  My next thought, then, was: I wonder whether she'll have learned from the last time and will resist throwing every kind of Pop Tart and other sugar laden something or other down her throat?
She can't use the 'I didn't realise all the weight didn't come off straight after you had the baby!' excuse this time - seriously, that has to be one of the most daft things I've ever read...and I've read a few!
THEN I wondered whether she'd be releasing a 'stay fit and healthy when your preggo' DVD - I'm putting my Jessica Simpson money machine marketing head on now, you see - and then, of course, there's the almost obligatory baby clothing range.  OOH OOOH!  A Pop Tart maternity range too!
One thing you can absolutely guarantee - we're all going to have to endure another nine months of inane tweets and magazine interviews from Jessica, revealing all the things we didn't get to hear about during pregnancy number one (and she revealed more than we ever wished to know). May God have mercy on our souls!!
AND, whilst I'm at it, the other thing that is beginning to astound me is the number of celebs - Tori Spelling, Peaches Geldof, and now Jessica Simpson - who are more than happy to admit that subsequent babies weren't planned, along with (mock) surprise as to how it all happened.
Honestly, you'd think they'd have figured out how Mother Nature works from the first time round!