Celebaby: Paul Weller And Bob Geldof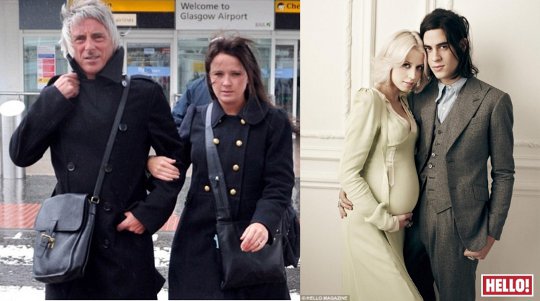 There's plenty of 'bla bla bla - its all so wonderful - yadda yadda yadda - it's all so magical' I could tell you about Beyonce, who's given her first interview since Blue Ivy was born, but I'm THAT bored of her I'd rather poke forks in my eyes - so instead I'm going to tell you about two old rockers - Paul Weller and Bob Geldof.
Paul Weller
If you don't know who Paul Weller is then you're younger than me; if you are younger than me and you DO know who Paul Weller is then I salute you and you probably have your parents to thank for your fabulous musical taste.
Paul Weller, in case you didn't know, was the lead singer of a band called The Jam (they did Town Called Malice which was used in the Billy Elliot movie and is a fantastic piece of music) and went on to have a very successful solo career (if you're in the mood for new music , go and buy 'Wild Wood' by Paul Weller - it's superb!).
Paul is 53 now and married to his 25-year-old wife, Hannah Andrews.  The pair of them welcomed their first children into the world on Saturday - twin boys, whom they've named Bowie and John Paul.
John Paul and Bowie are Paul's sixth and seventh children - his oldest being his son, Natt, who's 23.
All the best to them both - well, the four of them: Paul and Hannah and their two new little boys.
Bob Geldoff
Remember a couple of celebabies back I told you that Peaches Geldof had announced she was preggars, and that Bob had said , to a well-wisher on a red carpet somewhere, that he didn't want to talk about it?
Well, he still hasn't (as far as I know) but guess what?!  Peaches and her fiancee are splashed all over the cover of Hello! magazine and have spilled the beans on it all - how did we know that was coming!  But let's face it, if a glossy mag' offered us 'mere mortals' the chance of a big wodge of cash in return for making you look fabulous in lots of snaps taken in a big country house, in return for talking all about your pregnancy, most of us would bite their arms off, not just their hands.
So, the upshot is this: Peaches (21) and Tom (20) kept the pregnancy secret from everyone, family included, for five months because they wanted to enjoy being pregnant alone for a while.  They also wanted to be able to tell everyone the sex of the baby too - a baby boy who happens to be due on Peaches' mother's (Paula Yates) birthday) - and decided that Christmas time would be a perfect time to do it.
So they revealed the news and gender to Bob Geldof on Boxing Day who was, apparently, overwhelmed, overjoyed and overcome with emotion.  He also told, both, Peaches and Tom that they must get married and stay together forever...
"Oh my God, he was so happy, especially as I'm having a boy.  The poor man's been surrounded by women up till now - I knew he would be happy but I didn't realise how over the moon he would be. He's always been very supportive of me but he was really overwhelmed and emotional.
 He offered Tom a glass of champagne and told me he was glad it was Tom because, of all the boyfriends I've had, he's the favourite.  He told us we must never break up; that we must make our child happy, get married and be together forever."
Married and together forever, now there's an interesting concept for our modern times!