Celebaby: Natalie Wants Twins and Halle Loses Nahla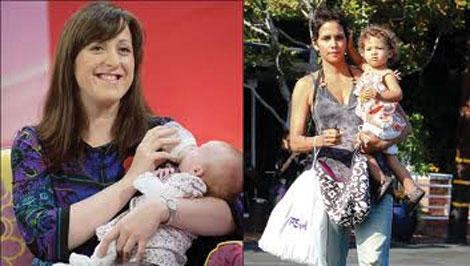 It's all go in the world of Celebaby today! Natalie Cassidy wants more kids already and Halle Berry loses her daughter, Nahla.
Natalie Wants Twins Next
So Natalie Cassidy has been well and truly bitten by the baby bug.
It's easy to get sucked into the romance of it all when your first one is a little angel - that's how I've got two with birthdays on the same day a year apart *sigh*
She'd like Eliza to have a brother or sister to play with, "I'd love Eliza to have a brother or sister quite soon to play with. We'd like to have twins next but you couldn't leave one on their own, so I'd have to have four."
Four!? Three's enough, trust me I know!
Nahla...Where ARRRRE YOOOOU!??
Halle Berry has 'fessed that she lost her daughter for a few seconds in a department store.
That's happened to me with my youngest a couple of years ago and it was a heart-stopping minute or two!
Halle revealed this little drama she had with her daughter during an appearance on the Ellen DeGeneres Show, "Talk about sweating. And you just freak out for about 30 seconds. I came undone. I think my head projected off my body," she went on to say, "and then all of a sudden, I looked down at a price tag or something, and she toddled off for what seemed like two seconds. The next thing I know, I looked back around and it was like, Whosh! Gone! And I said, 'Nahla? Nahla? Nahla?' Gone."
*Shudder* Even just reading this brings back the absolute panic I felt when my youngest had wandered off in John Lewis.
"My heart just started... I'm like, 'Close the store! Shut the door! My daughter's gone!' "She was right next to me - in a rounder of clothes where the pants were hanging. Right there. And after I became a lunatic and totally embarrassed myself, she stuck her head out and was like, 'Hi.'"
KIDS! Who'd have 'em!?